European Tournament CoC LCG, IRV Liège. Saturday 2nd November 2013
During the 31st International Rendez-Vous (IRV) of the Objectif-Jeux association (http://www.objectif-jeux.be), the organization staff, leaded by Frédéric Taton, suggests that you take part to the European CoC Championship in Liège, as well as to side events. An international event with great prizes you would not want to miss.
Last year, the tournament gathered 24 players from all over the world (including Graham Hill, from Japan). You can read a full review there: http://community.fan...e-3#entry726848
Informations about this year's edition are gathered here: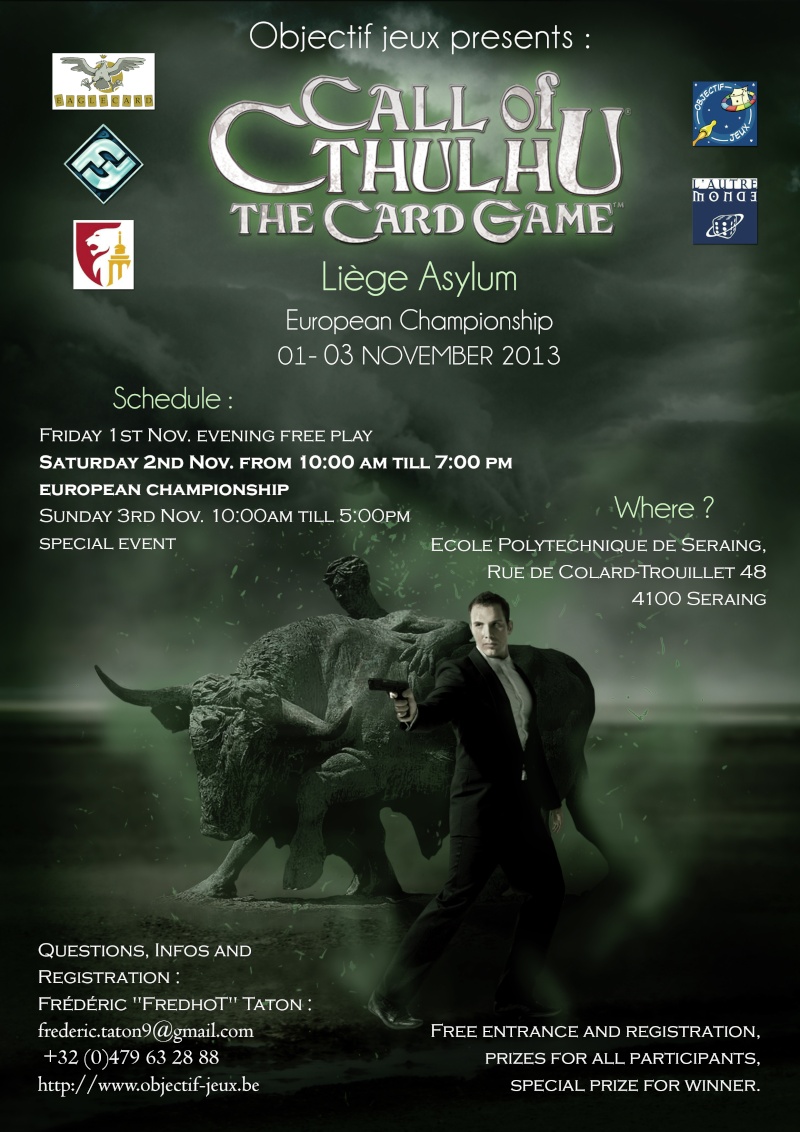 When?
From friday 1st november 7:00pm till sunday 3rd november 2013 5:00pm.
What?
Friday evening: chats, deck-building, socializing, open games,...
Saturday 2nd november 10:00am: final registration, decklists,... 11:00am Euro Champ (swiss pairing, 4 rounds, quarter finals, semi finals, final) --> 7:00pm
Sunday 3rd november 10:00am: side event (still to be defined, more info to come)
Where?
At the yearly convention of our gameclub "Objectif Jeux", called International Rendez-Vous
Ecole Polytechnique de Seraing
48 rue Collard de Trouillet (entrance via the parking, rue de la Province)
4100 Seraing
Belgium
How much?
Free entrance to the con and free registration to the Euro Champ. Thanks to FFG, Edge, l'Autre Monde and EagleCard, we will once again be able to offer great prizes for every participants, including the champion card design.
Ruling?
All cards published in LCG format are tournament legal, provided they are not banned, up to and including The latest Deluxe Expansion, Terror in Venice.


Latest FAQ and Tournament Rules published by FFG at the moment of the championship shall prevail.


Suiss pairing, 45 minutes. Second player will be allowed to play an extra turn if the game ends during the first player's turn. After that, the player that has won the more stories wins.


Travel advices?
Note that Liège has an international railway station (direct connections with, e.g. Paris, Köln, Frankfurt) and is not far away from the international Brussels Airport (Belgium is a very small country) and Flughafen Frankfurt.
Contact, Infos, Registration?
send an e-mail to (frederic POINT taton9 AT gmail POINT com , replace POINT by . and AT by @) or contact me via mp on this forum.
Registration in advance would be very appreciated so we can better organize the event.
Also, if you need help to find an hotel or a "b&b", contact us before 1st october, or would like us to pick you up at the Railway Station, please let us know at least the week before the event (Monday 28th October 2013).
Edited by FredhoT, 07 September 2013 - 02:43 PM.