So I recently acquired my fourth firespray (in order to do one in each color scheme on the pilot cards), and I suggested to a friend that we do an all firespray versus all YT game. There was a little bit of filler on the rebel side due to running out of things to spend points on with only three falcons, but it was a total blast.
Imperial (198):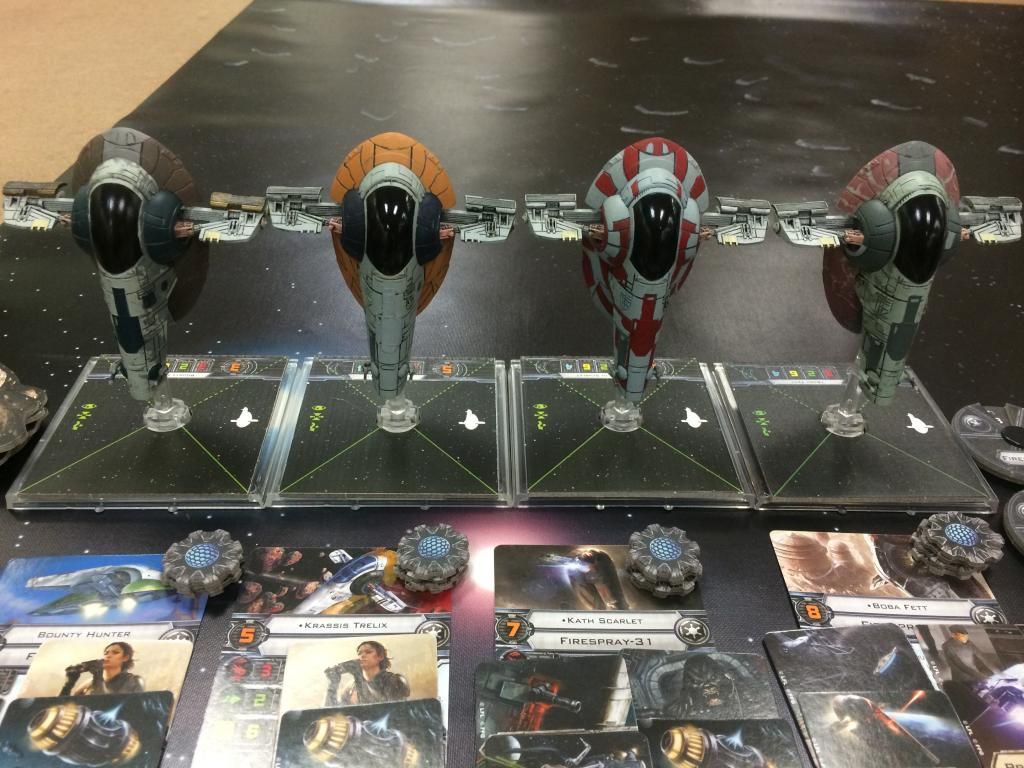 Bounty Hunter
-Heavy Laser Cannon
-Recon Specialist
-Seismic Charge
Krassis Trelix
-Heavy Laser Cannon
-Recon Specialist
-Seismic Charge
Kath Scarlet
-Marksmanship
-Heavy Laser Cannon
-Gunner
-Seismic Charge
Boba Fett
-Outmaneuver
-Navigator
-Proton Bomb
-Slave 1 Title (for style)
Rebels (200):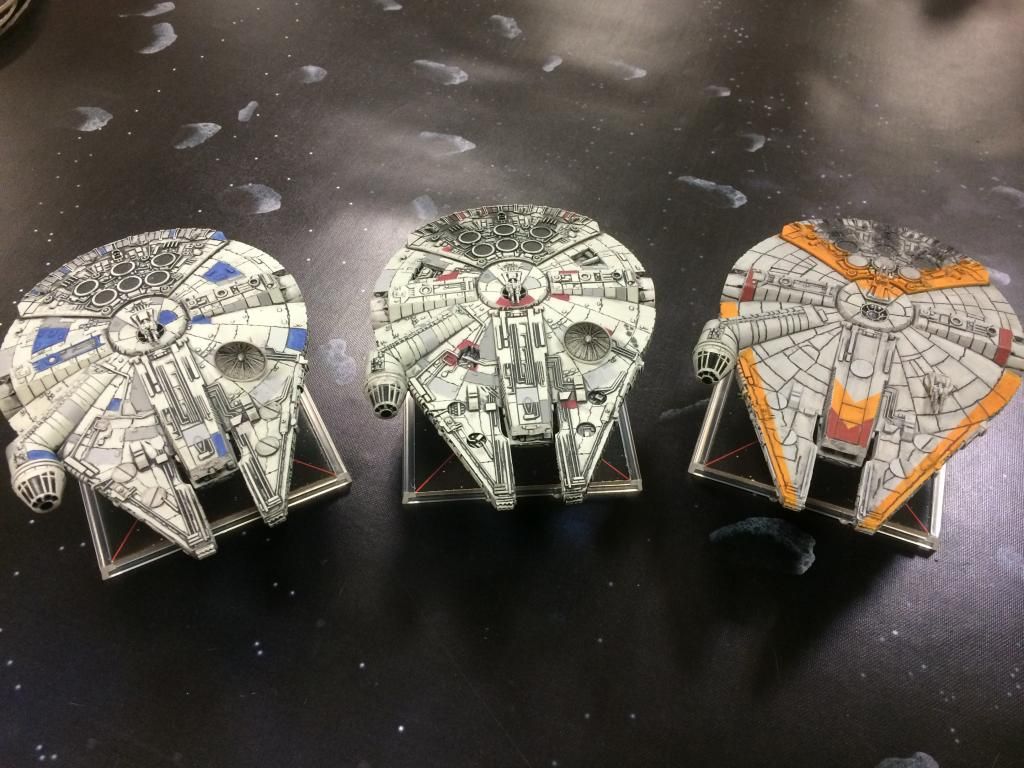 Han Solo
-Recon Specialist
-Luke Skywalker
-Outmaneuver
-Engine Upgrade
Lando Calrissian
-Leia
-Nien Numb
-Push the Limit
-Engine Upgrade
Chewbacca
-C-3PO
-R2-D2
-Expert Handling
-Engine Upgrade
-Millennium Falcon title
Jan Ors
Battle report is based on memory of last night. There are probably a ton of inaccuracies, but the lists are right and it's partly just fun to look at all the large ships shooting each other. I'm pretty sure there are a few turns where I'm missing a picture of them.
I roll out a 3x3 map, but in retrospect probably should have gone with a full epic game sized 3x6. We ran into stuff. A lot. Or more accurately, the transports kept running into firesprays, and the firesprays kept hitting asteroids. Boba Fett was particularly bad about it, jumping directly on top of several as I misjudged things.
Chewbacca in the regular falcon upper left, next to Lando (orange) with Jan and Han (blue YT) in the middle. Kath and Boba lower left, with bounty hunter in the middle and Krassis angled in the lower right.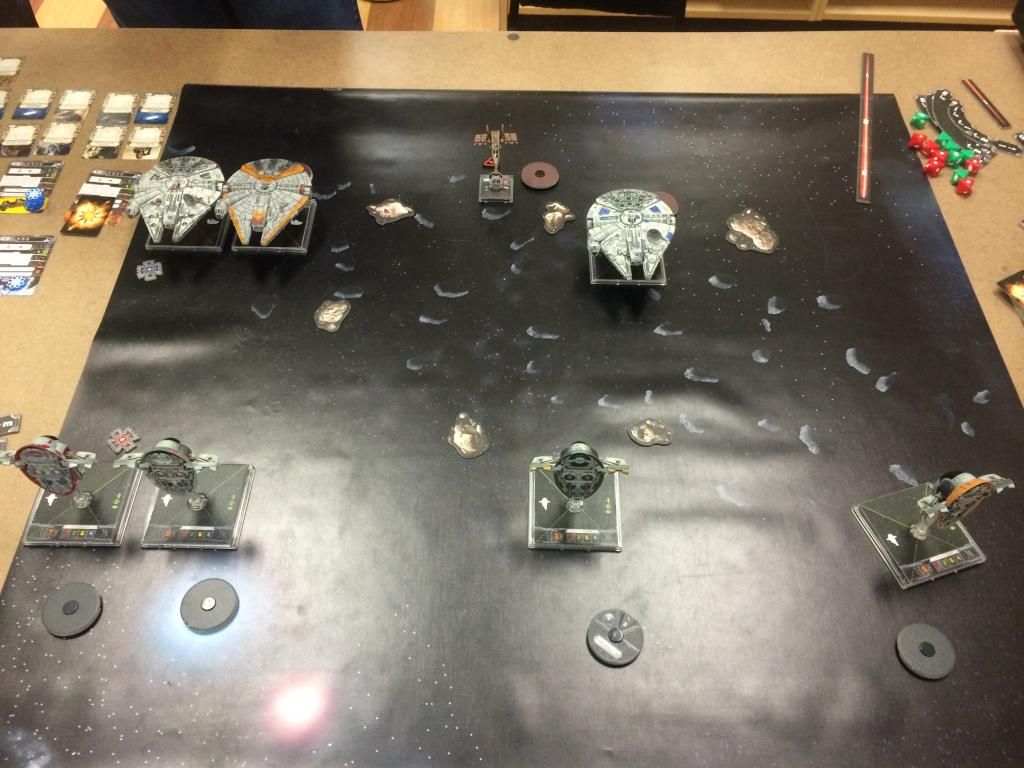 Everyone scoots forward, and a few shots are exchanged. Chewie a chunk of his shields, and Han gets absolutely nailed, losing all of them. Bounty Hunter and Fett take a little bit of damage.
Missing photo of next turn: Leia gets used, Chewie and Lando K turn, but Lando runs smack into Kath. Boba botches his move and hits Kath as well. Fire is exchanged, but it's not a particularly brutal turn. Jan takes a ranged 1 shot at a bounty hunter and does 2 damage. Bounty hunter is ashamed she got hit by a turret-less HWK.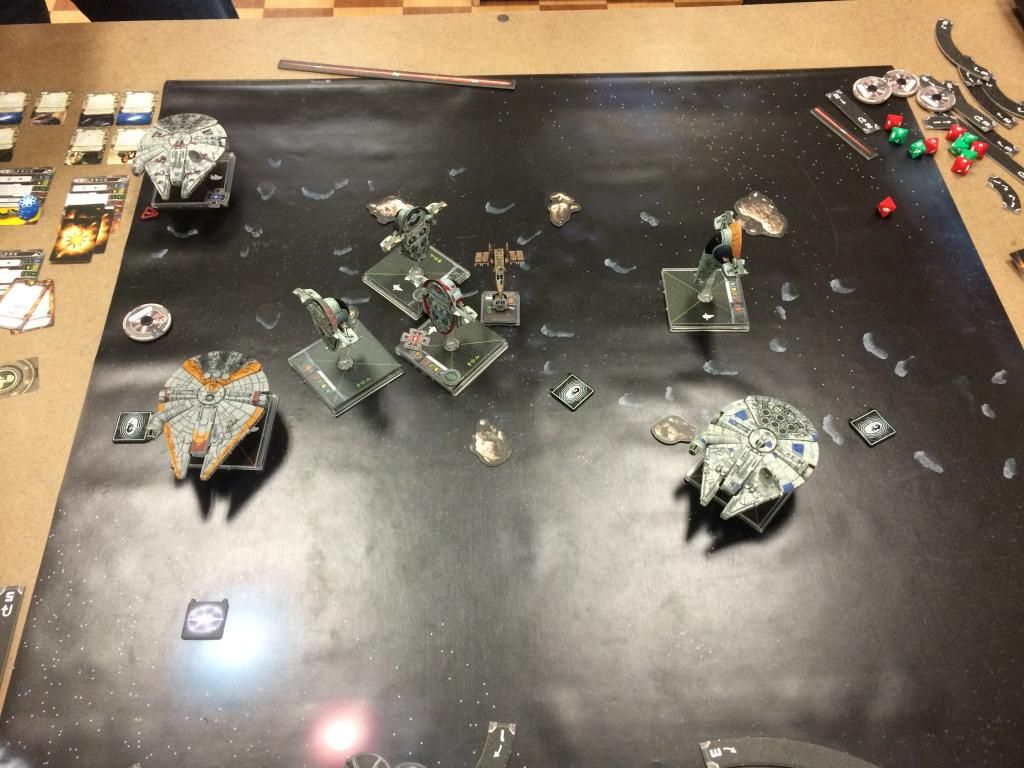 All the bombs get dropped. Kath gets hit by 1, Lando and Han get pinged, Jan dies to one. Lando narrowly avoids the proton by the fact he ran into Fett. Chewie K turns back into the field and Han starts looping around. At this point attrition has started to build up on Bounty Hunter, Fett, Lando, and Han.
Smooth flying for everyone, this might just be the first turn with no collisions. Lando FINALLY starts to get use out of push the limit. Han is BADLY wounded at this point. A crit on the hunter reduces his agility to one.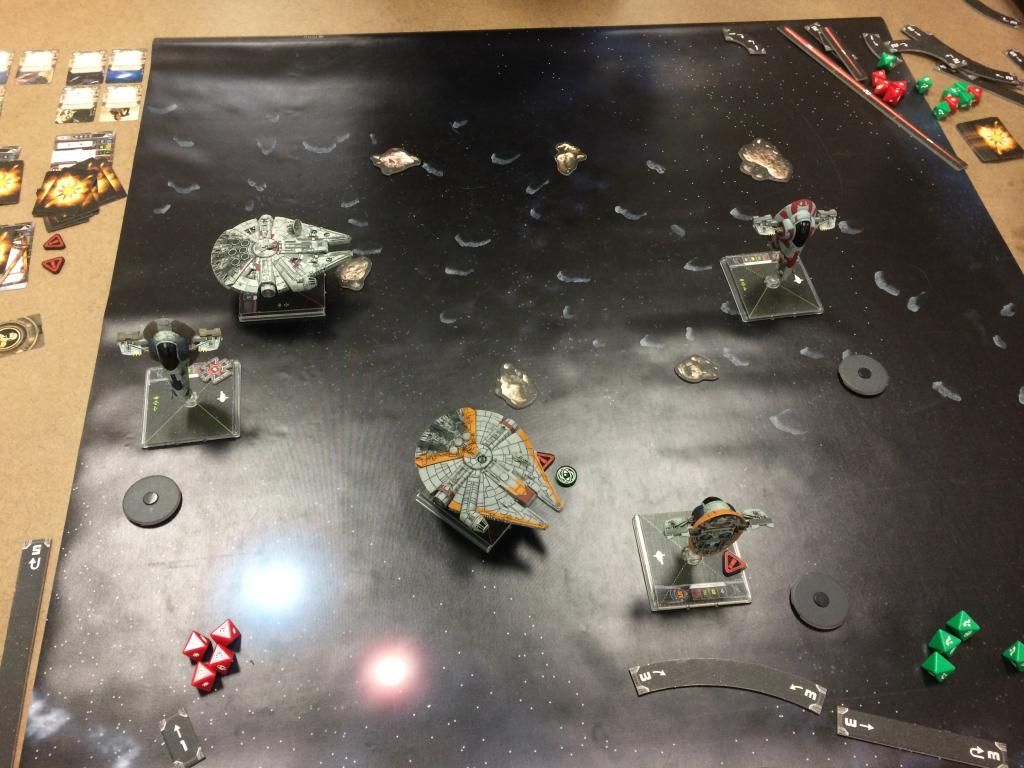 Han dies, and Chewie and the hunter continue their feud. Unfortunately, all of Chewie's defenses are laughing at the Bounty Hunter's dice. Not a good move on Chewbacca here, I imagine after several turns of everyone bouncing into each other in tight quarters that the opponent forgot he gave Chewie barrel rolls to avoid that asteroid.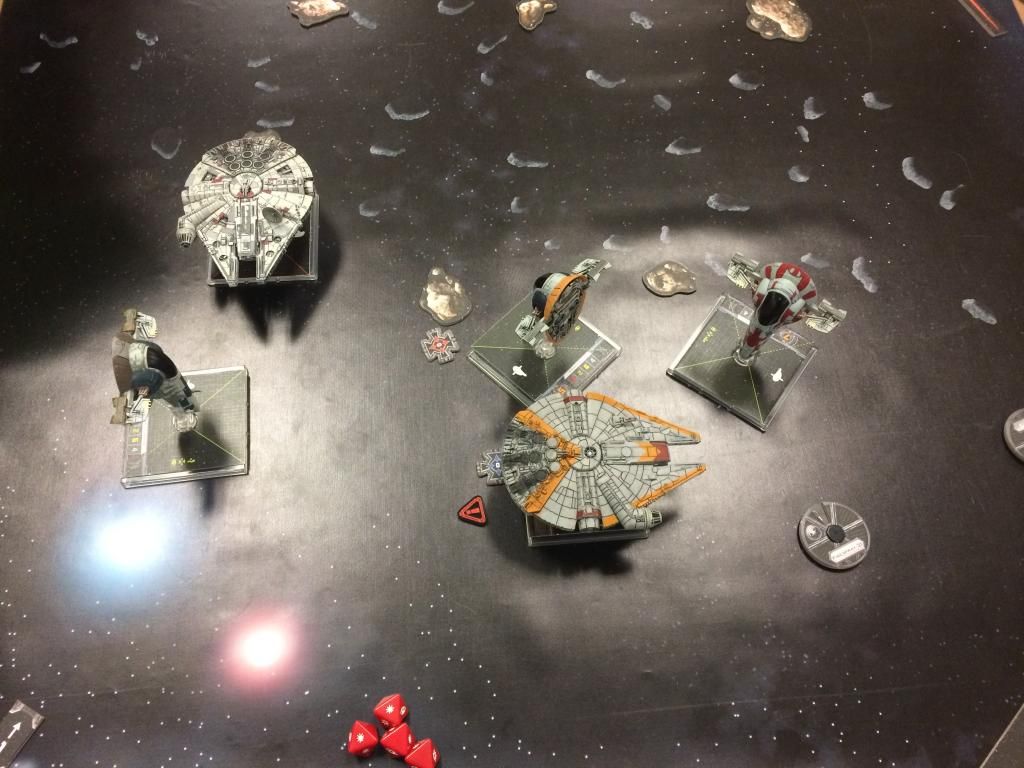 Blam blam blam. The sheer amount of hull and shield points on the table made each ship take awhile to put down. Krassis is starting to hit the danger zone, and the bounty hunter is limping on his last legs.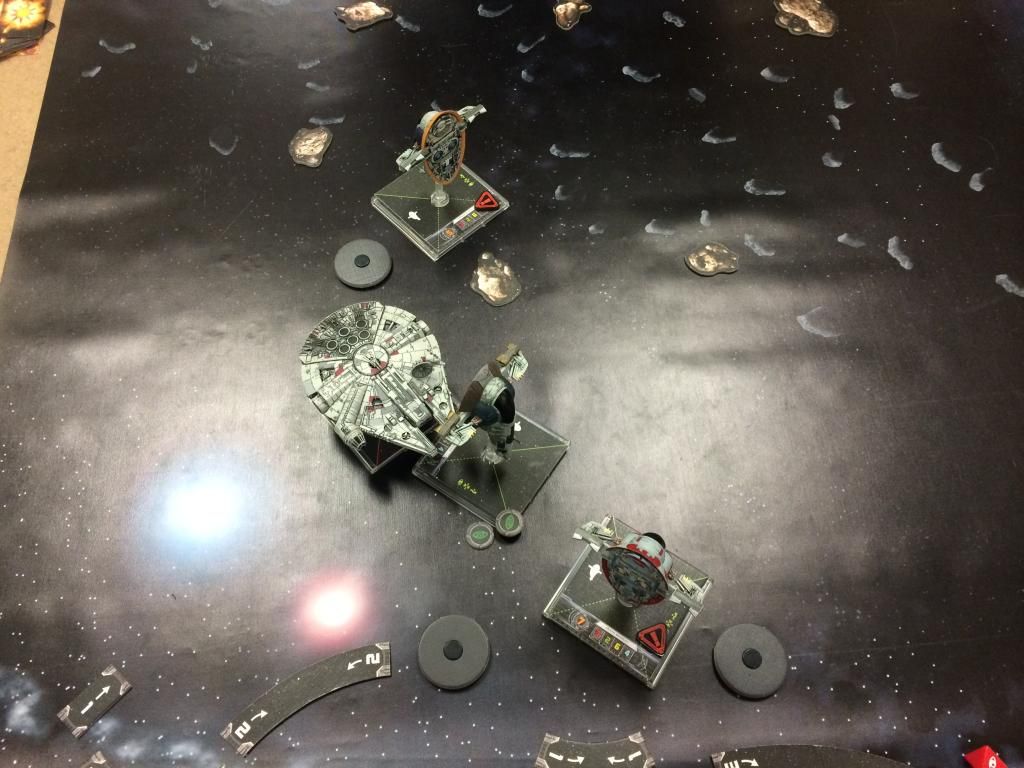 Lando dies! The bounty hunter breathes a sigh of relief, can't have his last hull shot off this turn.
Spoke too soon. Dead bounty hunter. Kath wins worst pilot award by running into Chewie AND landing on an asteroid. Krassis is almost dead, but Chewie is limping along at 1 hull.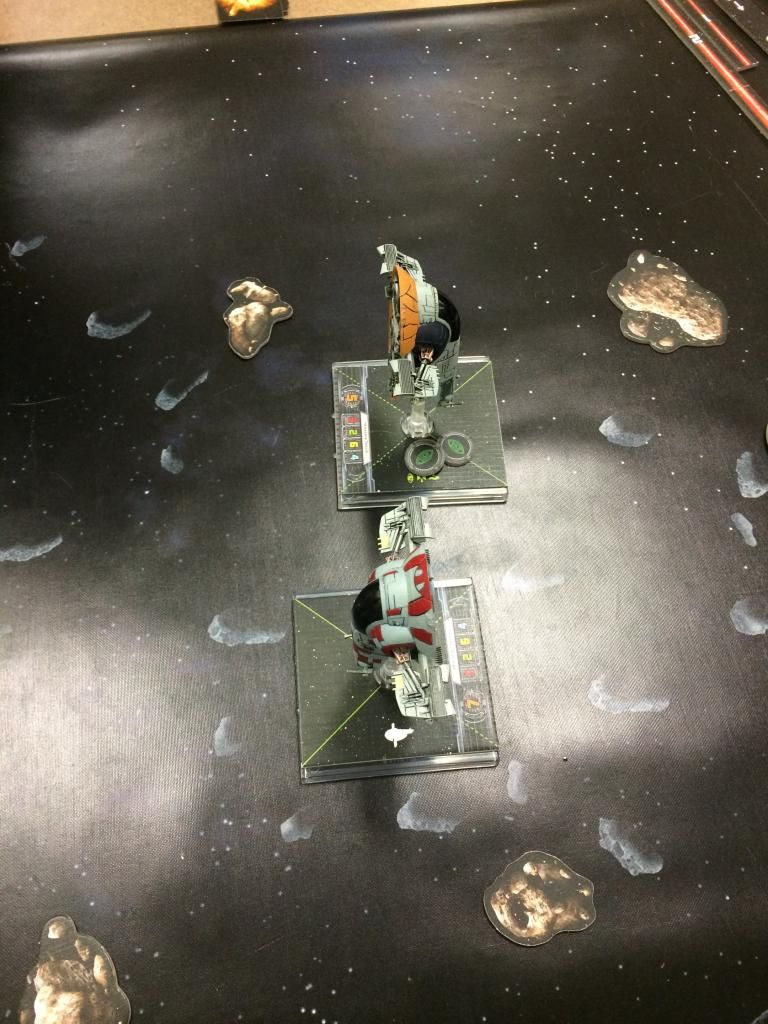 Victory for the Firesprays!
Chewbacca was a royal pain, especially since the r2 dice were HOT. Recovered something like 6 or 7 shields over the game and only flipped up one crit. Kath's gunner was surprisingly useful, I think it triggered twice when I completely botched some rolls. Heck, there was a turn where I had marksmanship up where I rolled 3 blanks and a focus and chose to not up the focus to a crit to guarantee a gunner reroll. (I was using the cloak token to represent marksmanship, which really confused some passerby. "Wait, so Firesprays can cloak now?! What expansion did I miss? Where can I buy it?!")