So Catastrophic09 just posted about a new competition at Tales from the Cards involving hunting and killing a Mumak enemy. He posted a very interesting strategy that I have somehow never thought of before and I've always dismissed straight shot as I was unaware of this seemingly quite powerful combo.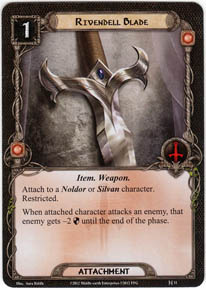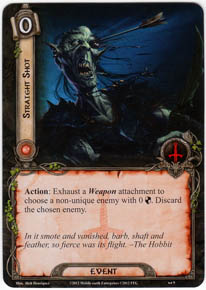 I just went through the list of enemies in all quests (from lowest armour to highest armour) on lotrlcg.com and found some pretty damn good targets for a straight shot after only 2 armour is reduced from them with a single rivendell blade attack. These include:
Bodyguard of Bolg
Lieutenant of Mordor
Morgul Bodyguard
Hunters from Mordor
Shadow Host Captain (providing it is not midnight)
Uruk Vanguard
Marsh Adder
Ungoliants Spawn (thats right! not unique!)
The issue I can see with this combo however is that by attacking an enemy with 2 defense with a character who has a rivendell blade attached you are nullifying their 2 defense and doing that characters damage straight to their hitpoints. The three characters I put my Rivendell blades on all have 3 attack so any enemy with 3 or less health are killed by just the hero and blade.... any enemies who have 4 or 5 health (most of which are listed above) are simply taking an additional damage or two from straight shot (albeit dying a turn earlier which is very useful) which could be provided easily by a 2 attack ally or second hero helping with the attack..... this does not seem so powerful but could still be very useful to do that last point of damage or two to an enemy ensuring it will not attack you next round and you won't have to save characters to block/attack it the next turn and can use characters for defending or to make attacks on other enemies that round.
Where this combo would really shine is using straight shot when two characters with blades (or one with two blades attached) attack the one enemy giving it -4 defense. This is the main combo that Catastrophic09 actually spoke about. Reducing the Mumak to 0 defense and straight shotting it completely negating its "can only take 3 damage a turn" stipulation. What an awesome combo!
The main issue I see with this however is so long as it is two characters with one blade each (rather than 2 on one character) attacking, the enemy will get -4 defense and take 6 damage to the face (2 hero's with 3 attack each) just from the attack..... most enemies will die from this and again those that don't would only have a point or two of health left anyway AND are probably unique....
This kills even Nazgul, Southron Commanders, Orc Vanguard etc....

I never place two blades on one character as most enemies have 3 defense (so 1 of the 4 armour reduce is wasted) and it is a restricted attachment so I prefer to put a blade of gondolin or dagger of westernesse as the second restricted attachment..
I do fairly often end up with two characters both with a blade, one of whom is Elladan who can also make multiple attacks provided he has the resources however....
Also to consider is that it is obviously also very good in that in can instantly kill many small annoying enemies who have 0 defense to begin with freeing up your characters to block/attack more nasty foes.
What I really want to know is how useful straight shot is in general. Who actually uses the card in their decks to great effect? Do you find yourself using it to great effect or does it just help a little? Anyone got any good stories of using straight shot to discard a Nazgul or especially nasty foe in a situation where they otherwise would have been screwed?

I'm thinking of putting it in my tactics/leadership deck but don't want to go to the effort of figuring out what to take out to put it in only to be removing it in a few days cause it turned out to be fairly useless.
If you'd like take a look at my decks and tell me if you think it would work well or not.
http://community.fan...o-handed-decks/
As always thanks for reading and any feedback you give.
Cheers