Hi,
I got stuck with my responses lately. I know I can trigger multiple at the same time and that I can choose in what order I use them.

Example 1- Theodred + Aragorn:
1. Use Theodred to pass resource to Aragorn
2. Use resource you got from Theodred to ready Aragorn

Example 2 - Ancient Mathom + Elf-Stone
1. Use mathom to draw 3 cards
2. Put 1 ally into play that you just got from Ancient Mathom

Example 3 - Legolas + Blade of Gondolin
1. First use 1 progress of Blade of Gondolin to pass Quest card
2. Use Response of Legolas to put 2 progress on new Quest card

I find all these examples very clear and I know how to handle them.

Now the problem I encountered when you use the responses it is because something just happened. So therefore you could use a response (or multiple). But I got stuck with using conflicting responses, can you use them? Examples:
Example 1: Valiant Sacrifice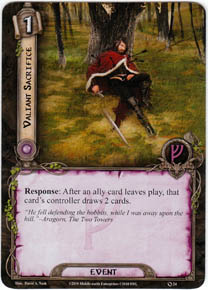 If you have 2 of these I find you can use them both if you can pay 2 resources. But when you only have 1, and you draw the 2nd by Valiant Sacrifice can you use it instantly?

Example 2: Foe - Hammer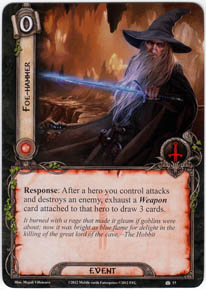 When I kill something and I use Foe-Hammer. Can I use another copy (as long as I have weapons available to exhaust for this attack) of Foe-Hammer for the same kill if I draw it by Foe-Hammer?
------------------------------------------------------------------------------------------------------------------
I couldn't find anything for this very specific case in the F.A.Q. 1.6., but I personally think it shouldn't be possible since it seems awkward to me to use responses of cards you didn't have when triggered. If you had all cards in hands already there is no problem to me since you can trigger all responses in the same response window (the order of execution is up to the players).