This article is an expression of my sadness for missed opportunities that could actually have been a valid deck picks.
I'll only list extremes in this article.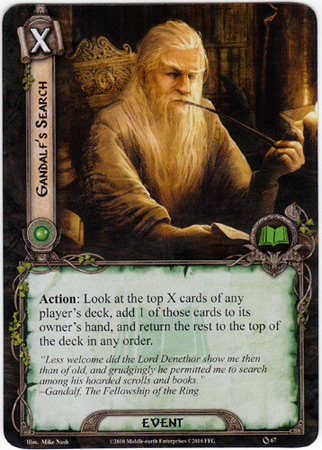 Summary: Well, this is just plain bad. This card expects us to pay loads of resources just for little top of the deck rearrange + drawing of 1 card. There is little to no use for this card in any deck at all, even if you have nothing to replace it with.
Salvation: Card cost should have been set to 0-1(or even exhaustion of Lore character/hero) and X in the card text tied to something else, like number of Lore heroes you control, or else. Even then, card would be optional, but at least considerable.
Summary: Should I even say something? A waste of a slot in your deck.
Salvation: Lowering the cost to 0 and/or boosting threat reduction to -2 would be most straightforward solution which would give it some potential. Upping the cost to 3~ and lowering the threat of attached location to 0 would be another pseudo-decent solution.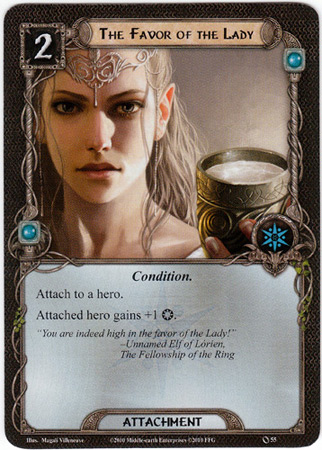 Summary: 1 willpower at the cost of 2 SPIRIT resources? No, thanks. By the way, Dunedain Quest suffers the same fate, but at least it's from rich Leadership sphere.
Salvation: Reducing cost to 1. As simple as that.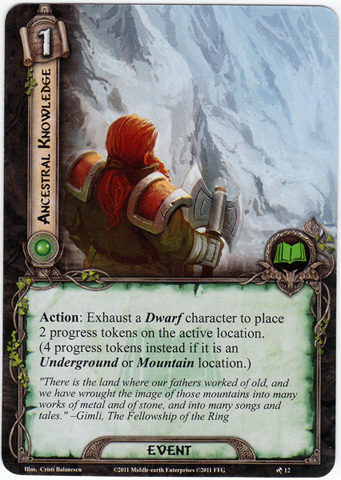 Summary: This card contains one of the worst game design flaws - being tied to a very specific element of the ENCOUNTER deck. And cards is very limited on without it (requires a dwarf, requires it to exhaust, can only target the active location). And with all those limits, it still costs you a resource.
Salvation: Just make it less restricted and more reliable. Like, dropping this location trait thingy, so it can exhaust any character to place the progress, but if you exhaust a Dwarf, you get additional progress.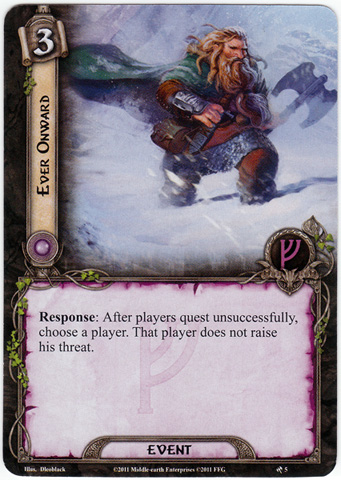 Summary: While being so simple, it's so situational for the given cost. It targets only one player, it costs 3, it assumes you're gonna fail at questing, and it will sit in your hand for long before you'll have a real reason to play it. In most of the cases it's just better to build willpower to quest instead of canceling the threat from failing it.
Salvation: This one is extremely tough, I see no immediate solution to make it worth a slot in a leadership deck. Lowering a cost to 2 would be a nice touch.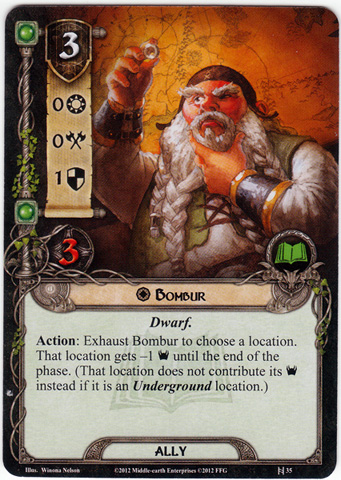 Summary: Another case of the worst game design, this ally costs a lot and brings nothing but Power in the Earth action in the quests outside of the Khazad cycle.
Salvation: Simply making him the location version of Ithilien Tracker would solve the issue.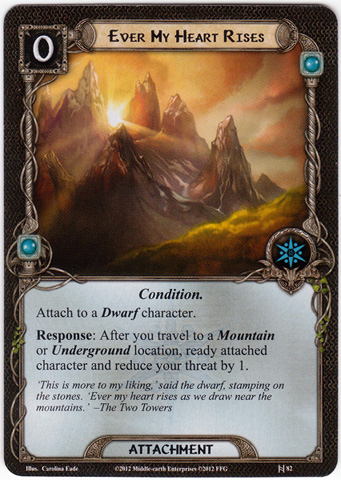 Summary: And here we go again. There is a few of Mountain location appearances outside of the Khazad-dum. Tying card to a location trait will most certainly make sure this card is never seen.
Salvation: Increasing cost to 1, making it unique and removing the location trait requirement.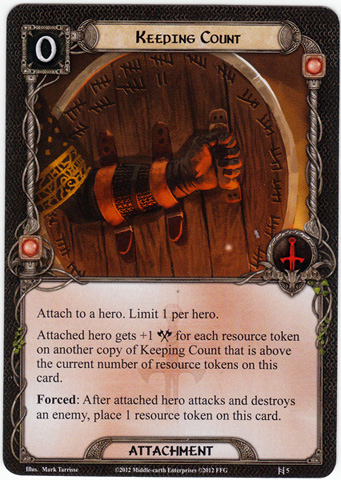 Summary: It requires you a lot of copies, it requires you to kill stuff, and it negates itself when you actually utilize it's bonus. Oh, and it destroys your resource token supply if you actually attempt to use it.
Salvation: The card should be reworked completely. I would make it a response attachment, which gives attached hero bonus attack when an enemy is destroyed without attached hero participating.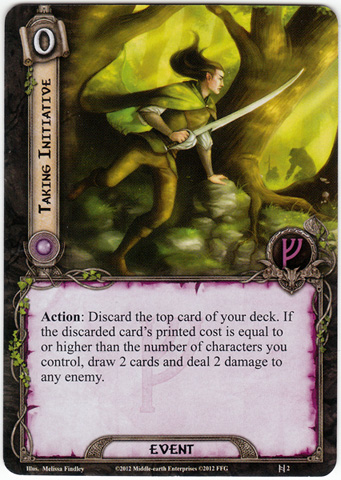 Summary: A failed attempt to complement the secrecy pool. Hardly usable and too random, does not rewards you enough if you can actually pull the effect.
Salvation: Should have been simply a 2 cost card with Secrecy 2 keyword.