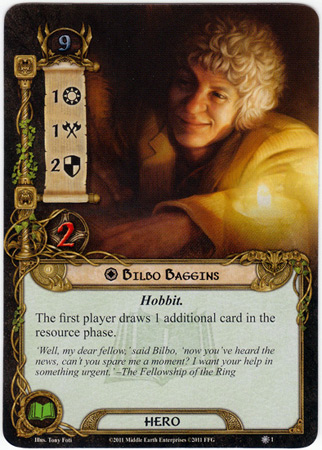 Game designers evaluated his ability as most powerful ability of all time as they gave him 3 points of threat over his head - biggest threat cost penalty ever seen in the history of LotR LCG.
But let's think about what we actually get for those 3 points of additional starting threat.
A whole 1 additional card each draw phase! Pretty good from the first glance, but... game can be played in multiplayer, you know.
So, basically, the thing currently are:
In 1 player game player gets 100% card draw boost from Bilbo;
In 2 player game, the potency of this boost is halved to 50%;
In 3 player game, it's shrinked to 33%;
And finally, in a 4 player game it's no more than 25% of a boost.
Not so shiny anymore. More of it, you can't even choose a player to prosper - it's tied to the first player token. Even worse, Bilbo is weakling of a character by himself and requires major work around him to get him running well... and for that you need a card draw, which becomes extremely spread the more players are in the game.
So, my question is... were designers too harsh when they were giving him this much of a threat cost disadvantage? Could it be justified? What kind of a errata do you think could help him? Perhaps lovering his threat cost a bit? Tweaking his ability a little? Some minor stat boost?
I have a couple of ideas about him of my own. Most of them revolve around his ability.
Most liberal one is changing his text into:
"At the beginning of the resource phase, choose a player to draw 1 card."
That'll keep his approximately at the same power level, but will at least give the player some control over what's going on with his ability. And control gives birth to decision, which is fun in my humble opinion.
Whadda'ya think?