Just replacing an old Forum thread ....
I was not exactly delighted with the Pass the Cheat Sheet set up for the Tokens. Nor, was I too happy with the BGG expanded versions as every time a new Token came out you needed to print out multiple sheets for all players or play Pass the Cheat Sheet. So I decided I would make up CCG sized cards (so they may be placed in card sleeves) for each of the tokens.
Here a few Token Card samples
(these are the Token Cards - front/back of each)
: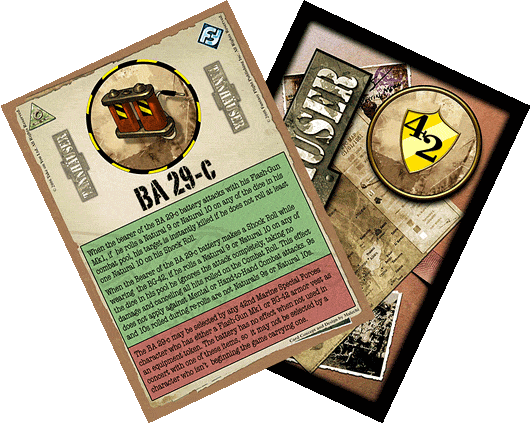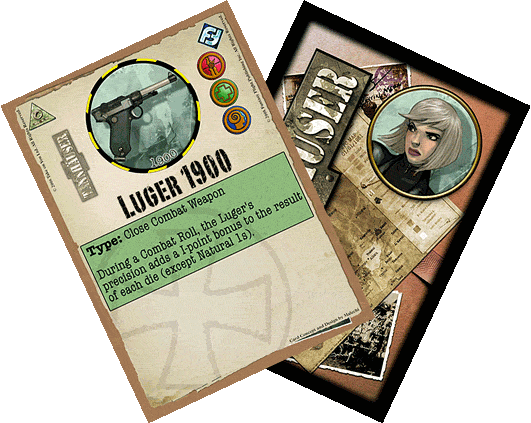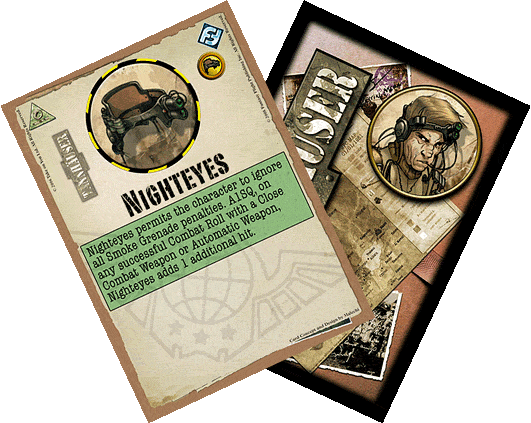 The PDFs containg all of the cards are available in either French or English at Black Sheep Archives.
Full Card List:
1 - Blutsturm Division Eva Kramer Critical Hit Card
2 - Blutsturm Division Eva Kramer First Aid Kit Card
3 - Blutsturm Division Eva Kramer Infiltration Card
4 - Blutsturm Division Eva Kramer Iron Cross 1st Class Card
5 - Blutsturm Division Eva Kramer Iron Cross 2nd Class Card
6 - Blutsturm Division Eva Kramer Luger P-08 Card
7 - Blutsturm Division Eva Kramer Mauser C-96 Card
8 - Blutsturm Division Eva Kramer Strafe Card
9 - Blutsturm Division Winter Pack Eva Kramer Domina Card
10 - Blutsturm Division Winter Pack Eva Kramer Safety Goggles Card
11 - Blutsturm Division Winter Pack Eva Kramer Walther PP-S Card
12 - Blutsturm Division Yula Korlitz Close Combat Bar Card
13 - Blutsturm Division Yula Korlitz Critical Hit Card
14 - Blutsturm Division Yula Korlitz First Aid kit Card
15 - Blutsturm Division Yula Korlitz Krueger Card
16 - Blutsturm Division Yula Korlitz Luger 1900 Card
17 - Blutsturm Division Yula Korlitz Polonium c210 Card
18 - Blutsturm Division Yula Korlitz Silencer Card
19 - Blutsturm Division Yula Korlitz Whirlwind Card
20 - Bonus Crate Sten Mark II Card
21 - Bonus Crate Trench Gun Card
22 - Bonus Obscura Korp Hermann Von Heizinger Eye of Horus Card
23 - Bonus Obscura Korp Obscura Korp Helm of Diomedes Card
24 - Bonus Obscura Korp Obscura Korp Obscura Korps Band Card
25 - Bonus Obscura Korp Schocktruppen Section Kaos Card
26 - Bonus Tannhauser Get Outta Here! Card
27 - Bonus Tannhauser Merry Christmas Card
28 - Bonus Tannhauser Trick or Treat Mask Card
29 - Bonus Union 42nd BA 29c Card
30 - Bonus Union 42nd Presidential Unit Citation Card
31 - Bonus Union 42nd The Tribune Card
32 - Bonus Union John MacNeal Boxing Card
33 - Bonus Union Tala Aponi Iikaah Card
34 - Bonus Union Union AAA Card
35 - Crate 3 Gold Bars Card
36 - Crate 4 Gold Bars Card
37 - Crate 6 Gold Bars Card
38 - Crate Combat Knife Card
39 - Crate Empty Crate Card
40 - Crate Extra Ammunition Card
41 - Crate First Aid Card
42 - Crate M15 Card
43 - Crate Mauser C96 Card
44 - Crate MP 40 Card
45 - Crate Stielhandgranate Card
46 - Crate Victory Point 0 Card
47 - Crate Victory Point 1a Card
48 - Crate Victory Point 1b Card
49 - Crate Victory Point 1c Card
50 - Crate Victory Point 2a Card
51 - Crate Victory Point 2b Card
52 - Mercenary Wolf Colt 45 Card
53 - Mercenary Wolf F1 Fragmentation Grenade Card
54 - Mercenary Wolf First Aid Kit Card
55 - Mercenary Wolf Jack of all Trades Card
56 - Mercenary Wolf Luck Card
57 - Mercenary Wolf M3 Combat Knife Card
58 - Mercenary Wolf MP3008c Freiheit Machine Pistol Card
59 - Mercenary Wolf Shot of Morphine Card
60 - Obscura Korp Hermann Von Heizinger Eye of Tages Card
61 - Obscura Korp Hermann Von Heizinger Generalleutnant Card
62 - Obscura Korp Hermann Von Heizinger Hermetica Atra Card
63 - Obscura Korp Hermann Von Heizinger Hermetica Occulta Card
64 - Obscura Korp Hermann Von Heizinger Hermetica Umbra Card
65 - Obscura Korp Hermann Von Heizinger Patmos Amulet Card
66 - Obscura Korp Hermann Von Heizinger Sha-Na-Ra Card
67 - Obscura Korp Hermann Von Heizinger Walther P.38 Card
68 - Obscura Korp Karl Zermann Ozo Celerity Card
69 - Obscura Korp Karl Zermann Ozo Doom Card
70 - Obscura Korp Karl Zermann Ozo First Aid Kit Card
71 - Obscura Korp Karl Zermann Ozo Immunity to Pain Card
72 - Obscura Korp Karl Zermann Ozo Oberleutnant Card
73 - Obscura Korp Karl Zermann Ozo Ringkragen Card
74 - Obscura Korp Karl Zermann Ozo Stielhandgranate Card
75 - Obscura Korp Karl Zermann Ozo Supernatural Strength Card
76 - Obscura Korp Schocktruppen Extra Ammunition Card
77 - Obscura Korp Schocktruppen First Aid Kit Card
78 - Obscura Korp Schocktruppen Keep Firing Card
79 - Obscura Korp Schocktruppen Mad Minute
80 - Obscura Korp Schocktruppen MP 40 Card
81 - Obscura Korp Schocktruppen Stielhandgranate Card
82 - Obscura Korp Stosstruppen Celerity Card
83 - Obscura Korp Stosstruppen Combat Knife Card
84 - Obscura Korp Stosstruppen Demon Taint Card
85 - Obscura Korp Stosstruppen Immunity to Pain Card
86 - Obscura Korp Stosstruppen Not Dead Yet Card
87 - Obscura Korp Stosstruppen Supernatural Strength Card
88 - Union Barry Daniel Brown BA-27 Card
89 - Union Barry Daniel Brown First Aid Kit Card
90 - Union Barry Daniel Brown Flash Machine Gun A6a Card
91 - Union Barry Daniel Brown Incredible Strength Card
92 - Union Barry Daniel Brown Knife Card
93 - Union Barry Daniel Brown MKII A1 Card
94 - Union Barry Daniel Brown Sergeant Card
95 - Union Barry Daniel Brown Smith & Wesson 1917 Card
96 - Union Commandos Alpha Flash-Gun MKI Card
97 - Union Commandos Alpha Go! Go! GO! Card
98 - Union Commandos Alpha Keep Moving Card
99 - Union Commandos Alpha M15 Card
100 - Union Commandos Alpha MKII A1 Card
101 - Union Commandos Alpha Reising M50 Card
102 - Union Commandos Delta BG-42 Card
103 - Union Commandos Delta Go! Go! GO! Card
104 - Union Commandos Delta Keep Moving Card
105 - Union Commandos Delta M15 Card
106 - Union Commandos Delta Smith & Wesson 1917 Card
107 - Union John MacNeal Captain Card
108 - Union John MacNeal Colt 45 1911 A1 Card
109 - Union John MacNeal Combat Infantry Badge Card
110 - Union John MacNeal Expert Infantry Badge Card
111 - Union John MacNeal Flash Gun MKI Card
112 - Union John MacNeal Medal of Honor Card
113 - Union John MacNeal Nighteyes Card
114 - Union John MacNeal Silver Star Card
115 - Union Tala Aponi Corporal Card
116 - Union Tala Aponi Extra Ammunition Card
117 - Union Tala Aponi First Aid Kit Card
118 - Union Tala Aponi M15 Card
119 - Union Tala Aponi Shot of Morphine Card
120 - Union Tala Aponi Smith & Wesson 1917 Card
121 - Union Tala Aponi Submachine Gun M3 Card
122 - Union Tala Aponi TNT 440gr Card
123 - Union Winter Pack John MacNeal Colt 45 1911 AS Card
124 - Union Winter Pack John MacNeal Let's Go Follow Me Card
125 - Union Winter Pack John MacNeal M1929c Ammunition Card
126 - Union Winter Pack John MacNeal Major Card