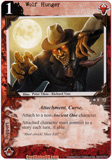 Wolf Hunger
Type: Support Faction: Shub-Niggurath
Cost: 1
Game Text:
Attachment. Curse.
Attach to a non-Ancient One character.
Attached character must commit to a story each turn if able.
Flavor Text: "Must attack! Must Kill!"
Set: AoA
Number: 72
Illustrator: Peter Tikos - Richard Vass
Except for its cost this one does not seem that interesting. What do you think, clever trick or wasted cardboard?