Like most of us on these forums, I have been in search for a more ideal storage system for my x-wing miniatures game. I first started with a Ace hardware nut storage box and a Plano 0375 to get the bulk of my goodies around. But after awhile it just made more sense to have one storage case to carry around and something that does not take up a lot of table space. After reading many suggestions on what other people were using it seemed lke the best bet was in the Plano 7000 Series. I debated for a long time on going the Battlefoam route because that type of case and miniature protection is my dream set up. The primeary reason that is holding me back on going with Battlefoam is the initial price of $79 just for the case. The custom cut trays would be fantastc to have as well. Yet this game is on the verge of Wave 2 with good speculation on what might be in wave 3. Star wars has plently of other ships from that universe to fill a good number of waves after that. Which means my miniature collection will continue to grow as more waves comes out. Going the Battlefoam route would be just to costly at this point in time. I know my self well enough to know that my level of organization is going to cost me many redos of custom trays as newer waves comes out. This just isn't cost effective untl the number of waves coming out starts to slow down which I hope it doesn't.
So I finally settled on the Plano 7271 storage / tackle box yesterday. I found this one at a Fleet Farm with a price tag of $40. I took a very hard look at the Plano 7771 storage / tackle box yesterday as well which was going for $59. I loved the storage capabilites of the 7771 it was huge and had more than enough space to grow with my collection. The 7271 was smaller in size probably by 3 inches shorter in length and 2 inches shorter in depth if my memory is correct. But it was a nice solid blue verses the brown color that is only available in the 7771 series. The 7271 still had room for a growing collection, good coloration and a smaller foot print of space it would require.
I needed my storage to be able to handle 2 core sets, 2 Tie Expansions, 3 Advanced Tie Expansions, 2 X-wing Expansions & 2 Y-wing Expansions. Plus I needed to take into consideration of what I am going to pick up for wave 3 and yet still have room available for future waves. For wave 3 I am leaning on picking up 2 Falcons, 2 Slave Ones, 2-3 Tie Interceptors & 2-3 A-wings. I did settled with the Plano 7271 it should work well for me well into wave 4 depending on the B-wing dimensons. If you are looking at having a very large fleet of ships I would go with the Plano 7771 hands down. Its size and extra storage capabilities would be perfect for a large fleet.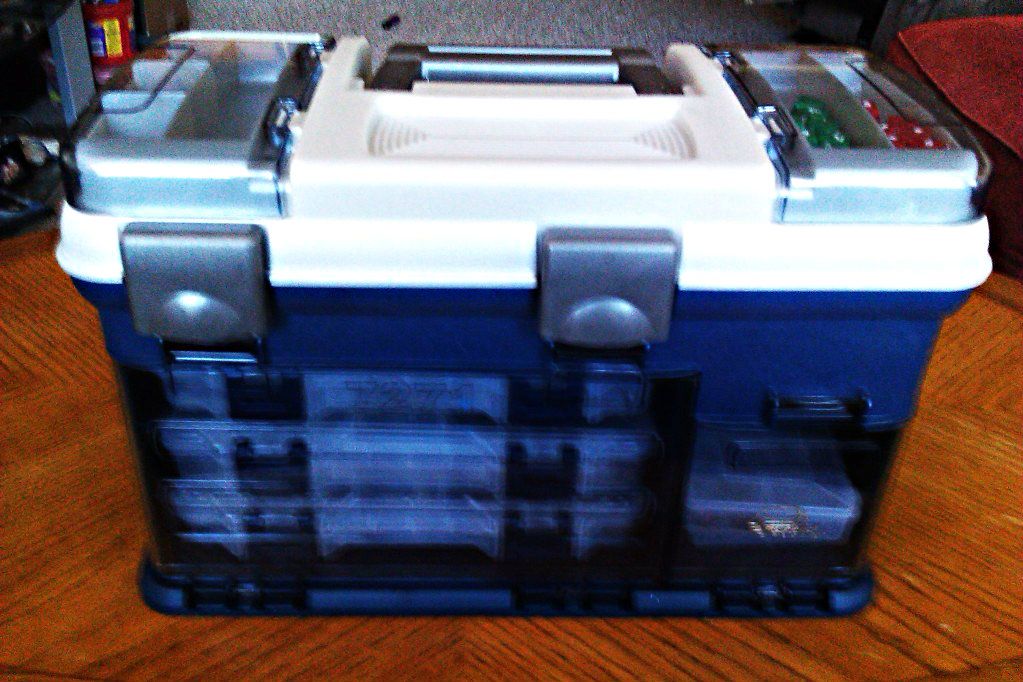 Top right lid storage holds all of my dice for extremely easy access. Both of these lids are tight and secure so there is no worry about stuff falling out. The left lid storage is currently empty that may change as future waves comes out. The bottom storage on the right holds 2 Plano 3449 containers while the bottom storage on the left holds 3 Plano 3650N containers.
There is room to add another 3449 container in with the other two or something a little bit more depth if you needed to. It may be possible to fit 4 of the 3449 containers in that portion of the case. As for the your 3 main trays they slide in and out nicely due to plastic guides built inside. There is a chance you could possibly switch out the 3650N containers with something similar in size from Plano.
Inside the the top protion of the case, you wil see four divided sections on the right. I plan on using this space to stow away 2 Falcons & 2 Slave Ones along with their bases etc… In order to get everything to fit more snug in this upper section I cut up one of my core set organizers so that it fits in this section. This helps divide up this space nicely and keeps every thing from rattling around.
Another option instead of cutting up a core set insert would be to purchase another Plano 3650N. They do fit in this open space just fine. However; the 3650N's are not long enough to fit your movement markers or range ruler into them. Unless you cut out a section inside the case but the range ruler would stll be to long for it.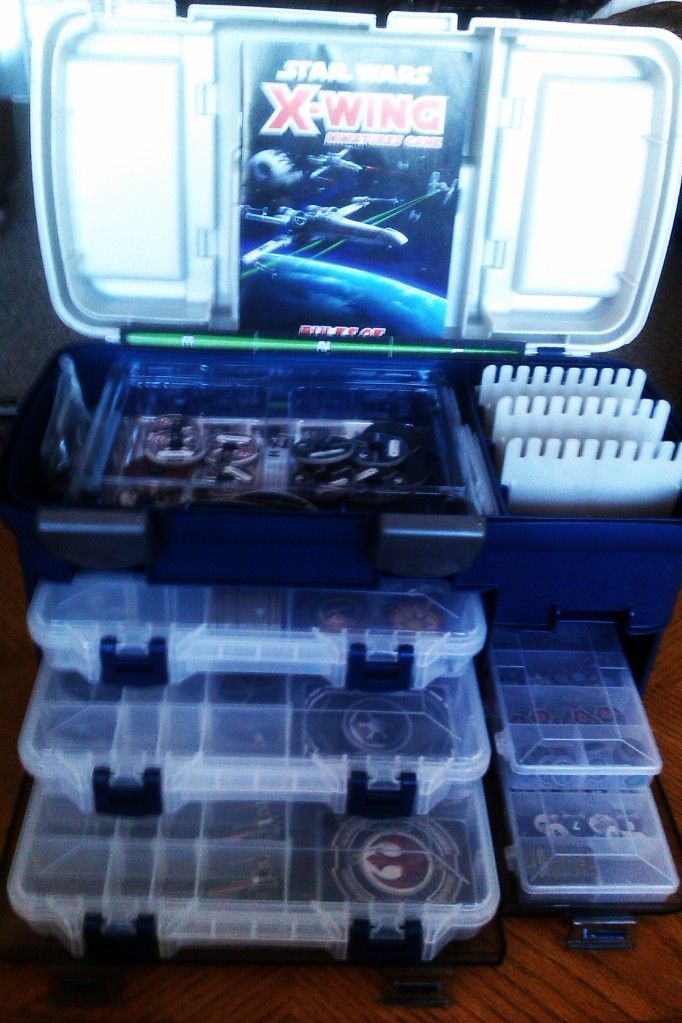 Just another shot with the rule book out of the way. All of the dails are split up by faction. All the movement templates, from one core set, are up front close to the top latches. The small baggie on the left side contains all of my mission objectives from both core sets.
Top left box: Has all of the smaller bases, pegs and cards for all of my ships. Plus all of the asteriods from two core sets, the damaged cards from one core set and all of the up-grade cards.
Middle left box: Currently holds 6 Ties, 3 Tie Advanced & all of the related pilot cards.
Bottom left box: Currently holds 4 X-wings, 2 Y-wings & all of the related pilot cards, including Ion cannon cards.
Top right box: One compartment holds my target locks, another holds the numbers 1-9 while the other holds 10-19. In the future the next after that will hold 20-29.
Bottom right box: Contains all of my Focus, Evade, Damage, Sheild, Stress and Ion tokens.
In all I think it was a good purchase $40 is hard to beat. Considering I have spent over $45 with my two old boxes and I did not have any more room for growth. Thankfully those will be put to good use around the house. The case is solid all of the latches are extremely tight nothing is going to just open up and fall out on the floor. I would expect ordering this case on line the quality would still be the same. I did however; run into an series 7771 which had a very loose top storage lid. This could have been for many reasons. From people like my self opening and closing it, getting dropped, damaged some how or just simply a 1 out of an 1,000 defect. I would recommend to anyone, go see the storage cases you are interested in and see if it will work for you. Test the crap out of all of the latches and then test them some more! Trust me after a day of looking at different Plano's, opening and closing latch after latch, then organizing my own storage system. The tips of my fingers are sore, it takes a good amount of pressure to get some of these areas open, especially the lower / bottom clear section latches.
All in all it was a good purchase, had tons of customization options, good sturdy construction and room for growth.
Again if you are a massing a large fleet, I would seriously look at the Plano 7771.