I have been experimenting with an old modelers trick for masking organic lines on armor. Silly Putty, yes the stuff in the red egg, is the key. It covers details, goes around edges, is reusable, and does not leave a residue.
This scheme was as much an experiment as anything else. It is very loosely based on an early war tank scheme. I am happy with the results, although I would use a lighter grey and possibly do a three color pattern next time.
I started by base coating in a khaki. I had done this a week or two earlier and had played a few games with the walker, hence the clean tape on the base.
Once the base coat is dry, break out the silly putty. Break off small pieces, about the size of a large pea, and roll them into snakes and apply as you like.
Once you are happy with the pattern, spray the next color. If you are doing a three color pattern wait for your paint to dry and then apply another layer of silly putty. Be very careful not to mangle the first layer of masking.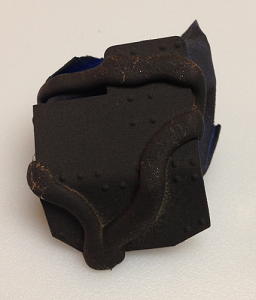 As you can see above, the putty works great as a mask. The one thing to keep in mind is spray angle. How soft of an edge you get will depend on how aggressively you spray. On the above armor I did not get the spray into the front of the curves and ended up with a very soft edge vs the harder edges elsewhere.
I don't mind this personally. Most vehicle camouflage was applied in the field, by the crews, using mops and brooms. These areas can also be covered up as an area of light damage or rust.
Below is the full, but unfinished model, with both weapon configurations.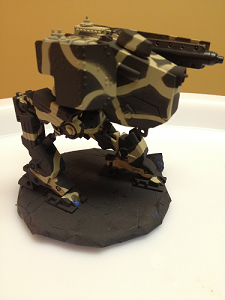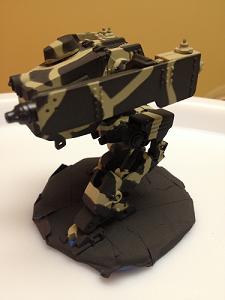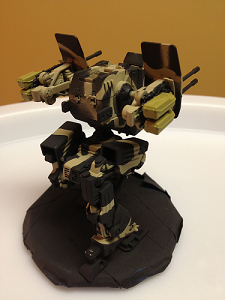 At the above stage there is Dark Grey and Khaki, with the laser and gun bodies picked out with gunmetal and the ammo boxes in dunkelgelb.
I realize the lighting needs some work.