Imperials
Tie Advanced Vader - Cluster Missiles, Determination
Tie Fighter Howlrunner - Squad Leader
Tie Fighter Mauler Mithel
Tie Fighter Backstabber
Tie Fighter Academy Pilot

Rebels
Y-Wing Dutch + Ion Cannon + Proton Torps + R5-K6
Y-wing Horton + Ion Cannon + Proton Torps + Proton Torps + R2 Astromech
Y-Wing Gold + Proton Torps + Proton Torps + R2 Astromech

This was my second game. I wanted to try out a Y-Wing list. My friend wanted to try out an elite Imperial list made of Ties and Vader. He is still getting the hang of the rules however and so did not use the squad leader ability once lol (he moved the Academy Pilot away from Howlrunner during the game).
The idea with my Y-Wing list was to blast away with all my torps and take down as many ties as possible, then use the ion turrets to try to control the battlefield.
Dutch hands out a free target lock whenever he acquires a lock. R5-k6 gives him a 37.5% chance to reacquire a lock (it only worked once in this game however). Horton gets rerolls at range 2-3 so Dutch would throw the lock over to the gold pilot. The gold pilot would take focus to increase his chance to hit. If one or two torps (4-8pts) could sink a tie (12-18pts) then I thought that would give the Y-Wings a chance.
Instead of zooming at the Imperials the Y-Wings lined up in close formation and plodded along at speed 2. I wanted the ties to get into range 2 -3 and so moved very slowly. Once the ties were in range I started to fly at speed 1. Howlrunner managed to zip right up to my Y-wings into range 1 and so escaped torpedo fire.
Vader and the Academy pilot swung to my far left in an effort to flank me. The Y-wings got a volley of torps off as they passed the swarming ties. Two ties blew up, Mauler Mithel and Backstabber. The Imperials (and Vader flanking with his missiles) decided to shoot at Horton and blew him up while he still had unused torpedoes in the tubes. That really sucked I tell you. Rolling 1 Green Die sucked more. Even with all those shields and 5 hull the Y-Wing went down pretty quickly.
As the 3 remaining Ties started to bank back around behind the Y-wings Dutch shot back with his ion cannon, giving covering fire as the squad set up for their next attack run. Vader and Howlrunner were hit and stunned as the Y-wings made Koiogran turns in close formation. Seeing that Vader expected the Y-Wings to slow down for their next pass, Gold Leader (Dutch) ordered his wingman to "gun it" at speed 3 (lol) and flew out of Vader's targeting arc. Gold squadrons' targeting computers locked onto howlrunner behind them and Dutch's ion cannon pot shot delivered the death blow to the elite tie.
So it was Dutch and Gold 2 vs Vader and an Academy Pilot. The Ties concentrated on Gold 2 and took him down. Then Vader almost collided with Dutch and this confusion gave Gold Leader a chance to finish off the academy pilot at close range, which the Y-Wing pilot duly did.
It was down to Gold Leader vs Vader…
With no missiles my only hope was to hit Vader with an ion cannon and keep ionizng him. This is very hard to do. Ion cannons have 3 attack dice, Vader has 3 defence. Plus Vader was always taking evade and focus actions. I tried my best, I ran, I koiogran turned, I used my rerolls with my target lock but slowly Vader started to land shots. Soon the shields were down and then a critical took out Dutch's ion cannon. That was it - not being able to shoot Vader outside the Y-Wing's arc was the death knell for the lumbering ship. Vader said "I have you now!" and finished off Gold Leader, then banked away victorious into the void.

It was a really fun game. I found it challenging to try to get those zippy ties into range 2-3 on my first pass. Using only Y-Wings, I now have a sense for what the ships can and can't do. They are not manoeuvrable and cannot hit hard - except when shooting torps. Even at range 3 Y-Wings are still probably going to take hits as they only roll 1 defensive die. The ion cannon is a huge asset when shooting flanking Ties. However, Vader must be targeted with torps if possible. A Y-Wing without torps will have a hard time if Vader takes evade and focus actions.

I'm not sure if an all Y-Wing list can be competitive, but I so want the old clunkers to be! I'll try a similar list again sometime in the hopes of finding an all Y-Wing sweet spot.
Here are some Pics taken on my phone. Sorry for the blur.
Y-Wings Fly in close formation. Dutch is in the middle.
The Ties Zoom in, howlrunner get's within range 1.
One Tie is downed.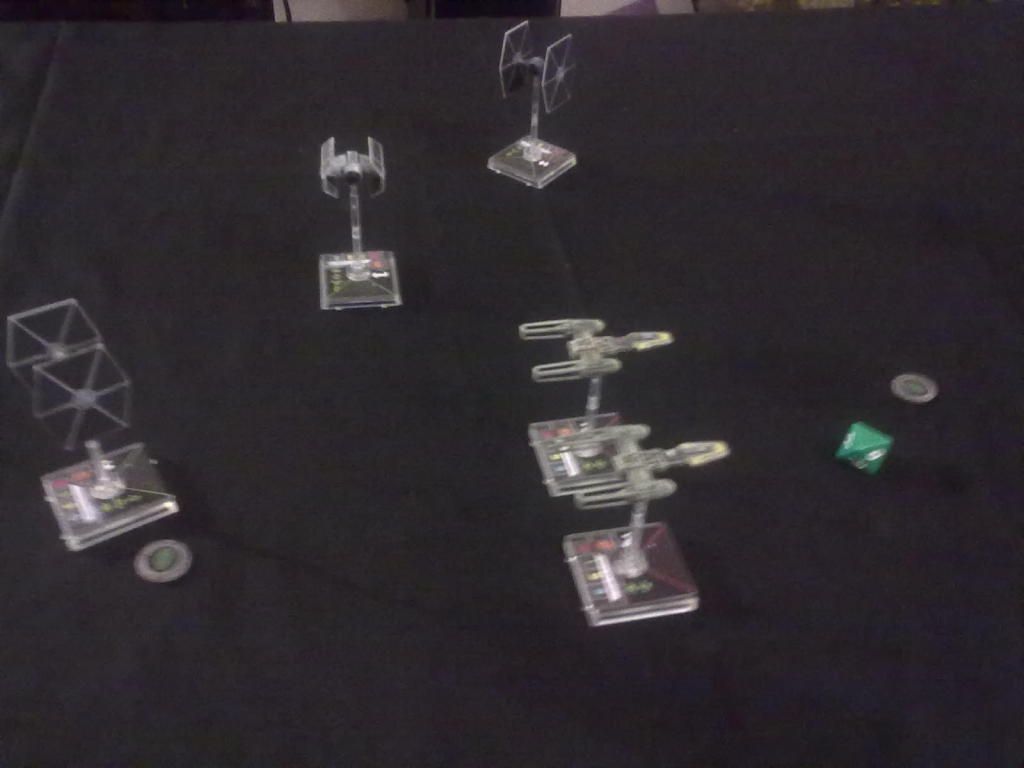 Second Tie is downed and so is a Y-Wing. Vader unloaded on the poor guy.
Y-wings break off to set up for their next pass. Dutch puts an ion on Vader.
Y-Wings Kiogoran turn and set up for their run.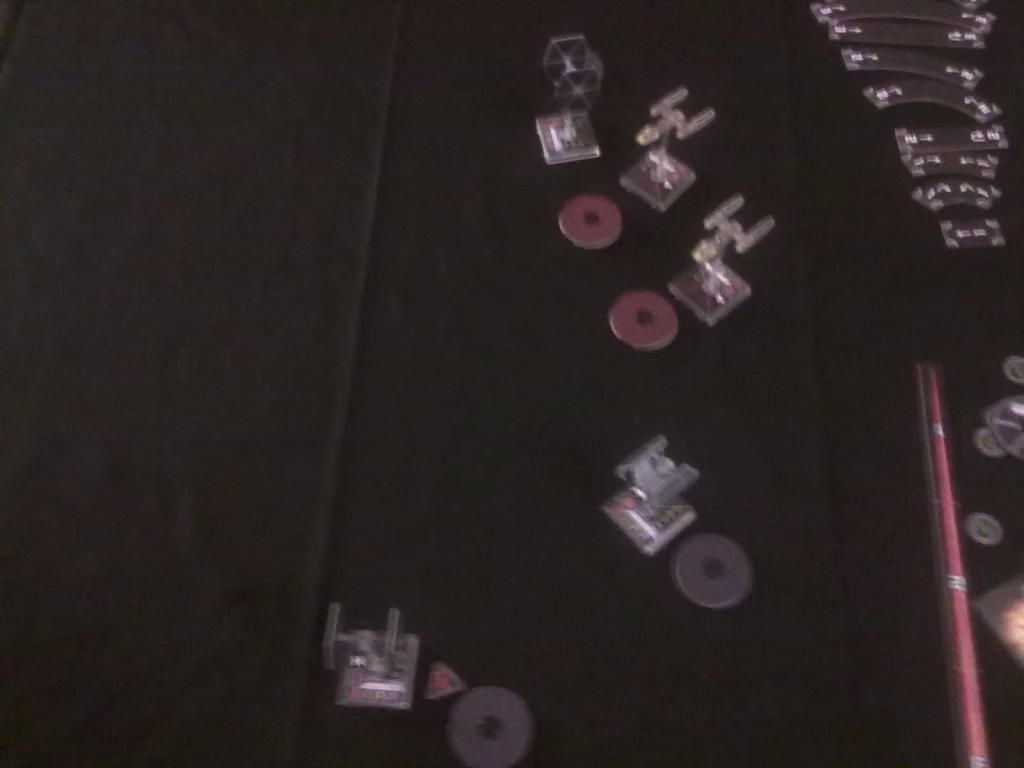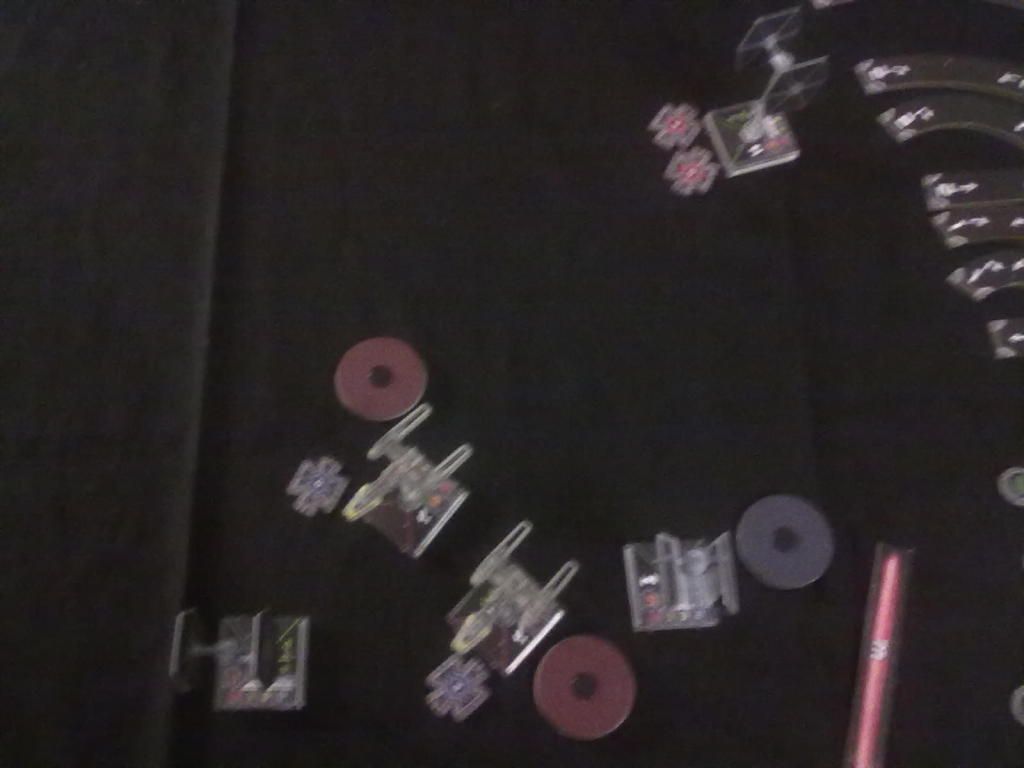 Dutch rightly guesses what Vader will do and blows past him with his wingman.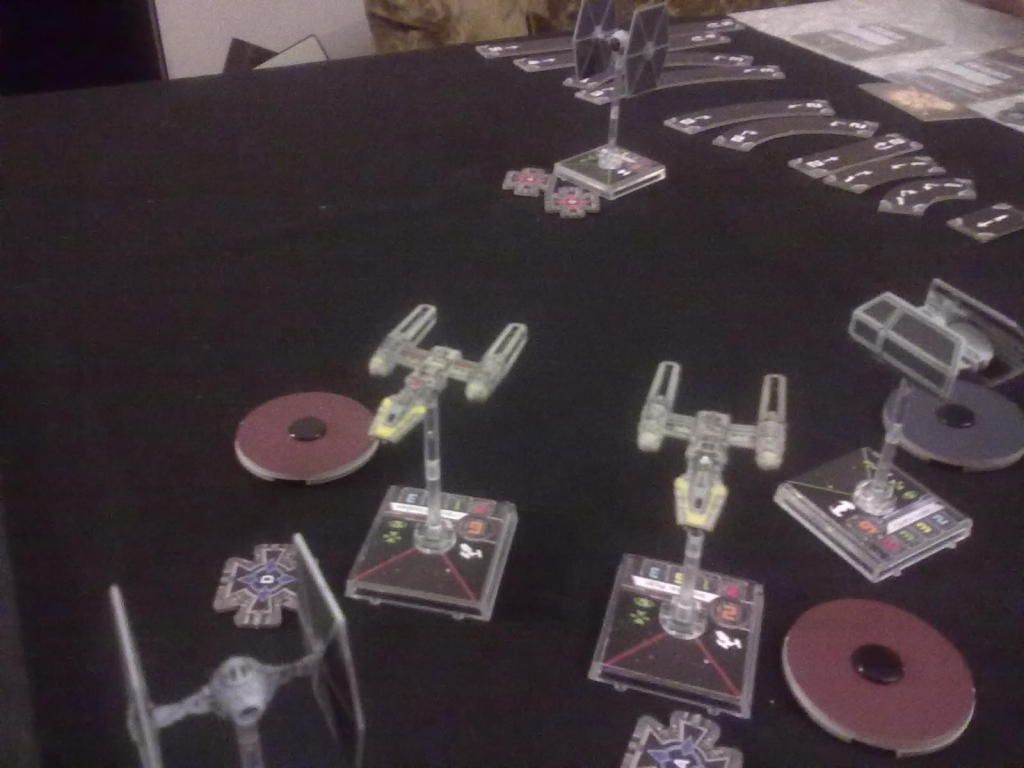 Dutch kills Howlrunner with his Ion Cannon.
Y-Wings Kiogoran turn to face the remaining Ties.
Gold Squadron Pilot yells "I'm hiiiiiit" and dies. Dutch Ionizes the flanking Tie.
Dutch outmaneuvers Vader again.
Vader flies too close to Dutch and must veer off. Dutch uses this confusion to blast away the remaining Tie Fighter.
Now it's Vader vs Dutch, a literal Faceoff.
Dutch doesn't maneuver well and is still in range of Vader, but he dogded the incoming fire.
Again they fly past each other.
Focus and Evade on Vader are difficult to overcome!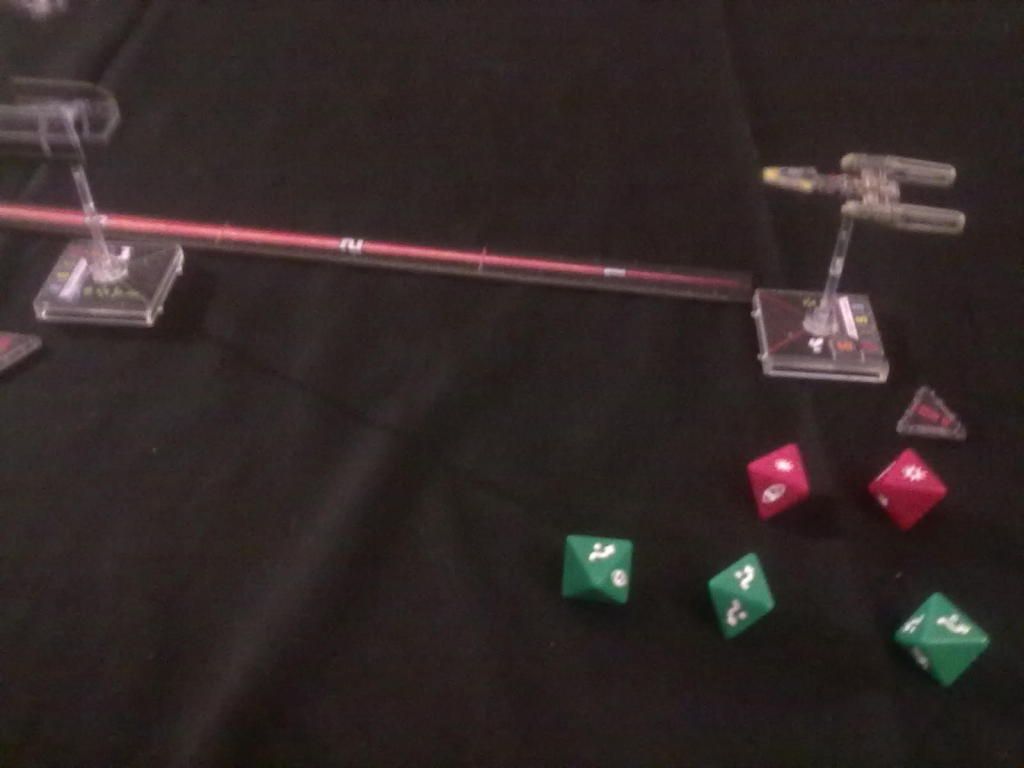 Dutch gets a lucky shot but Vader drew on the Dark Side.
Dutch is slowly losing his shields.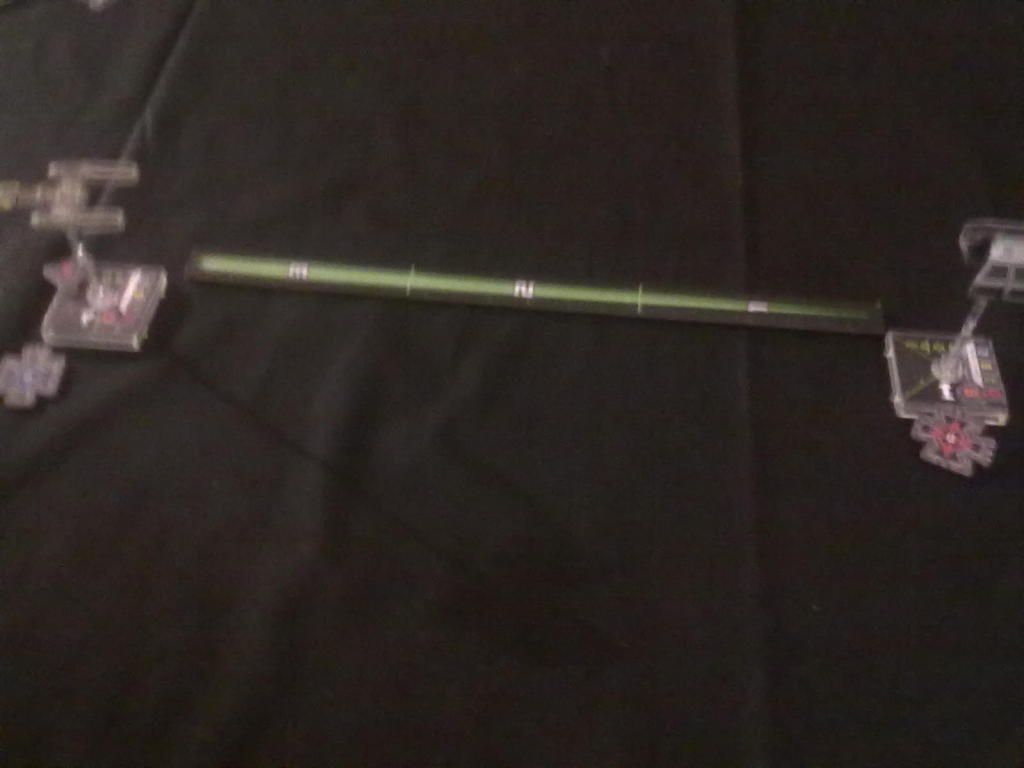 Dutch bolts from Vader at speed 4 but takes a Stress Token as he's pushing his old ship to the limits.
Dutch runs out of table room (asteroids ahead?) and can't koiogoran turn so has to make a sharp turn instead. Vader says "I have you now."
Dutch lost his Ion Canon and tries to fly by Vader but Vader will have none of it and finally puts down the Y-Wing.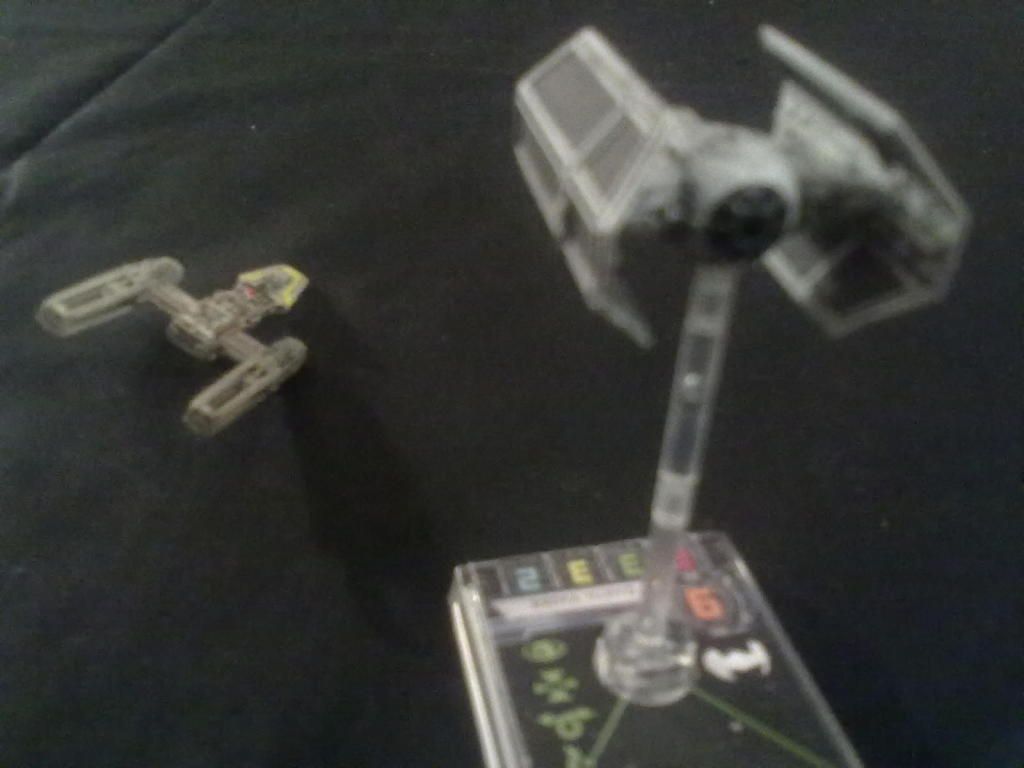 Vader flies away as Dutch goes down in smoke.