So here we go. I've decided to kick off a GM Resource thread. I think someone had wondered why Duros were not among the playable races, so here is my humble first attempt at an option playable character race.
Duros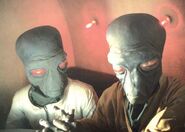 The Duros are one of the earliest known space faring races in the galaxy, and were one of the first to design a hyperdrive engine capable of faster than light travel. Naturally curious, the Duros took to the stars and explored the galaxy, navigating many of the hyperspace lanes used for commerce and travel today. Soon, the Duros could be found throughout the galaxy from the Outer Rim to the Core Worlds as they continued to colonize worlds far from their heavily polluted homeworld of Duro.
Duros are tall, green or blue skinned humanoids with large, red eyes and a lipless mouth. They are usually a calm and peaceful race, but can be intense and are quick to jump at the opportunity to explore or adventure. The Duros possess and almost uncanny affinity for starship operations and are natural astrogators and pilots.
Species Abilities
Wound Threshold: 10 + Brawn
Strain Threshold: 10 + Willpower
Starting Experience: 100 XP
Special Abilities: Duros begin the game with one rank in either Astrogation or Pilot (Space). They still may not train Astrogation or Pilot (Space) above rank 2 during character creation.
Characteristic Rating:
Brawn: 1
Presence: 2
Intellect: 3
Cunning: 2
Agility: 2
Willpower: 2