Let me start by saying that, so far, I absolutely love this game. After playing various GW offerings for the last 24 years, Dust Warfare has been a fantastic experience. While I obviously have a complaint, this in no way detracts from my enjoyment of the game as a whole. However, I do want to bring a quality control issue to everyone's attention as a brief 'buyer beware.'
First off, the pics: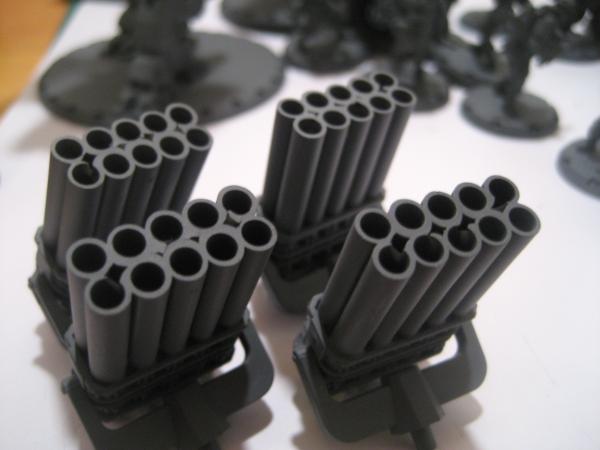 As you can see, here are four Nebelwerfer parts for the Lothar medium walker. In each case, one or more of the launch tubes has a significant chunk missing. This is simply a result of the molten plastic not filling the mold completely when the parts were made. While I realize that FFG is not a model company, per se, and that some degree of mold lines / casting issues are fairly common, these parts are all clearly defective. As someone who's been working with miniature models for over two decades, I'm very familiar with having to repair/resculpt/greenstuff any number of various problems. This particular defect, however, will be fairly annoying to deal with. I'll have to either remove a good 1/8" of each tube to even 'em out, or replace them entirely with polystyrene tubing.
I contacted FFG via their online parts request page, including the above picture illustrating the problem. They were very prompt in replying that they would be happy to send me replacement parts at no charge. At this point, I was very pleased with their quick response and pledge to fix the issue.
Unfortunately, I've since been told: "Your request has been updated to denied. Your request was denied because after talking to production about your issue, it turns out it isn't an outstanding issue and meets their standards when it comes to that part. The whole line is affected as you have documented due to the modeling techniques that where used to cast that object."
In other words, they expect that part to be defective, so tough luck.
If this problem were in a more inconspicuous location, or they were willing to at least provide parts that were less screwed up, it wouldn't be a big deal. If nothing else, the idea that the model is 'ready to paint' right out of the box is pretty clearly false (again, I expect mold lines and minor repairs as normal…this is something different). It sure doesn't match the picture on the box, for darned sure.
In any case, all I can do is to give a heads up to anyone planning to use a Lothar in their list.