~"The Largest and Most Organized Kingdom Hearts Trade Thread on the Net..."~

Please leave feedback in the "Trustworthy Traders Thread".

If you wish to buy cards from me, the deal must be at least $10.

NOTICE: Please include a signed card with your trade the first time you trade with me! I'll do so as well!
Link to my KHTCG Tracker page: http://meleepta.x10h....php?viewUser=2





~Collection~


Set I: Kingdom Hearts TCG

Common: 22/22
Uncommon: 21/21
Rare: 21/21
Super Rare: 27/27
Promo: 19/19
Tip Card: 5/5
X-Card: 1/1

Need 0 cards.

Set II: A Darkness Awakened

Common: 30/30
Uncommon: 30/30
Rare: 30/30
Super Rare: 38/38

Need 0 cards.

Set III: Light and Darkness

Common: 21/21
Uncommon: 21/21
Rare: 20/20
Super Rare: 29/29

Need 0 cards.
Set IV: Break of Dawn
Common: 66/66
Uncommon: 48/48
Rare: 24/24
Super Rare: 24/24
Promo: 11/11
Need 0 cards.





[UPDATE 27] I will not trade except for a foil Awakening Sora. Also, only deals for selling over or equal to $10 will be accepted.
It's been a good game but it has finally ended. [UPDATE 26]
Put up Break of Dawn cards revealed so far. [UPDATE 25]
Now using monkey_05_06's awesome tracker! [UPDATE 24]
Have every card released at this point! [UPDATE 23]
Please include a signed card within each trade! I will do so! [UPDATE 22]
WARP ZONE Activated! Thread organized more. Recounted cards; small difference in quantity I have.[UPDATE 21]
Achievements section Added [UPDATE 20]
Customer Appreciation Discounts!!!!!! Statuses given out now!!! [UPDATE 19]
Taking video games. Trading video games.[UPDATE 18]
Discounts on cards; both sending AND recieving[UPDATE 17]
New rule added[UPDATE 16]
Now buying/selling cards with heart points! See new section for amounts! [UPDATE 15]
Set 2 Added!!! Traverse Town Keyhole Pack now available! Villain's Gale Pack added! [UPDATE 14]
Collection List added for stats on how many I have and need.[UPDATE 13]
Deck List added! I'm showing what is currently in my deck, for those who want the cards. It'll take a bargain to get them out of my deck though.[UPDATE 12]
I have officially gone high-tech! Easily find sections with brightly colored signs![UPDATE 11]
Job Offer! Need Middleman Minuteman...Ready to be the middleman whenever needed![UPDATE 10]
More Deal Packs! Added Merchandice and Other.[UPDATE 9]
Deal Packs! You can now buy a bunch of cards for a lower price![UPDATE 8]
I am selling cards now too![UPDATE 7]
Willing to buy cards I want now![UPDATE 6]
Updated Deck. I now have a WR![UPDATE 5]
New Waiting List Section![UPDATE 4]
Other thread got deleted for some reason...so here it is reposted![UPDATE 3]
Updated Deck. Cards removed and added.[UPDATE 2]
Got a new box![UPDATE 1]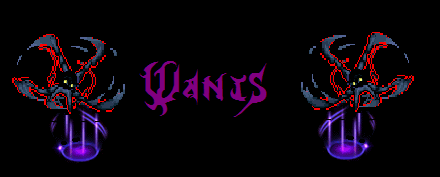 Set I: Kingdom Hearts TCG

---=may be getting from ebay
---=getting in a trade

-none-

Set II: A Darkness Awakened

-none-

Set III: Light and Darkness

-none-

Set IV: Break of Dawn

-none-
Video Games:
Kingdom Hearts Final Mix Platinum Limited Edition

*especially wanted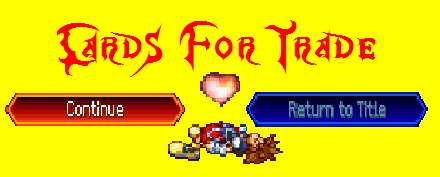 ---=not for trade

Set I: Kingdom Hearts TCG

Common:

Donald Duck Lv 1 x18
Donald Duck Lv 2 x14
Goofy Lv 1 x16
Goofy Lv 2 x13
Aladdin Lv 1 x14
Fire Lv 2 x11
Blizzard Lv 2 x11
Thunder Lv 2 x12
Cure x9
Pumpkinhead x19
Divine Rose x8
Shadow x10
Bouncywild x10
Soldier x10
Barrel Spider x13
Large Body x9
Sea Neon x10
Gargoyle x10
Pirate x12
Traverse Town Lv 3 x18
Traverse Town Lv 1 x16
Traverse Town Lv 2 x17

Uncommon:

Sora Lv 1 x3
Sora Lv 2 x5
Sora Lv 3 x3
Donald Duck Lv 3 x3
Goofy Lv 3 x2
Aladdin Lv 2 x5
Genie Lv 2 x8
Genie Lv 3 x2
Bambi Lv 2 x7
Bambi Lv 3 x3
Dumbo Lv 2 x3
Dumbo Lv 3 x4
Fira Lv 3 x5
Blizzara Lv 3 x3
Thundera Lv 3 x2
Lionheart x5
Lady Luck x5
Red Nocturne x6
Blue Rhapsody x3
Yellow Opera x3
Green Requiem x4

Rare:

Aladdin Lv 3 x0
Ariel Lv 1 x0
Ariel Lv 2 x0
Ariel Lv 3 x0
Simba Lv 2 x0
Simba Lv 3 x0
Simba Lv 4 x0
Genie Lv 4 x0
Bambi Lv 4 x0
Tinker Bell Lv 2 x1
Firaga Lv 4 x2
Blizzaga Lv 4 x1
Thundaga Lv 4 x0
Oathkeeper x0
Wight Night x5
Wizard x0
Wyvern x1
Wonderland Lv 2 x3
Deep Jungle Lv 2 x0
Agrabah Lv 2 x1
Halloweentown Lv 1 x1

Super Rare:

Sora Lv 1 x1
Sora Lv 2 x1
Sora Lv 3 x1
Donald Duck Lv 1 x2
Donald Duck Lv 2 x1
Donald Duck Lv 3 x1
Goofy Lv 1 x1
Goofy Lv 2 x2
Goofy Lv 3 x2
Aladdin Lv 1 x1
Aladdin Lv 2 x1
Aladdin Lv 3 x1
Ariel Lv 1 x1
Ariel Lv 2 x1
Ariel Lv 3 x1
Simba Lv 2 x2
Simba Lv 3 x1
Simba Lv 4 x1
Genie Lv 2 x1
Genie Lv 3 x1
Genie Lv 4 x1
Bambi Lv 2 x1
Bambi Lv 3 x1
Bambi Lv 4 x1
Dumbo Lv 2 x1
Dumbo Lv 3 x1
Tinker Bell Lv 2 x1

Promo:


Sora Lv 1 Holo x1
Sora Lv 1 x1
Riku Lv 2 Holo x1
Riku Lv 2 x2
Tinker Bell Lv 1 Holo x2
Tinker Bell Lv 1 x2
Simba Lv 1 Holo x1
Simba Lv 1 x2
Sora Lv 3 x3
Cid Lv 1 Holo x1
Cid Lv 1 x1
Tigger Lv 1 Holo x2
Tigger Lv 1 x1
Daisy Lv 0 Holo x2
Daisy Lv 0 x1
Kairi Lv 0 Holo x1
Kairi Lv 0 x1
Sora Lv 2 Holo x1
Sora Lv 2 x1

Tip Card:

1/5 x0
2/5 x0
3/5 x1
4/5 x1
5/5 x0

Set II: A Darkness Awakened

Common:

Jack Skellington Lv 1 x0
The Mayor x4
Beast Lv 1 x0
Hercules Lv 1 x1
Peter Pan Lv 1 x2
Pluto Lv 0 x3
Huey Lv 0 x5
Dewey Lv 0 x4
Louie Lv 0 x5
Jiminy Cricket x4
Mushu Lv 2 x4
Dumbo Lv 4 x3
Gravity Lv 2 x2
Stop Lv 4 x0
Aero Lv 2 x3
Power Wild x4
White Mushroom x3
Air Soldier x5
Bandit x4
Screwdiver x4
Angel Star x4
Air Pirate x3
Darkball x3
Guard Armor (arm) x4
Guard Armor (leg) x4
Defender x3
Wonderland Lv 1 x4
Halloween Town Lv 3 x3
Neverland Lv 1 x4
Hollow Bastion Lv 3 x4

Uncommon:

Jack Skellington Lv 2 x0
Zero Lv 0 x1
Beast Lv 2 x1
Hercules Lv 2 x0
Peter Pan Lv 2 x0
Broom Lv 0 x0
Tidus Lv 0 x1
Selphie Lv 0 x0
Wakka Lv 0 x0
Mushu Lv 3 x1
Cura Lv 2 x1
Gravira Lv 3 x2
Stopra Lv 5 x0
Fairy Harp x0
Olympia x2
Metal Chocobo x1
Oblivion x1
Fat Bandit x2
Pot Centipede x1
Search Ghost x0
Invisible x1
Guard Armor (body) x2
Darkside x0
Queen of Hearts x2
Hades x2
Clayton x0
Jafar x1
Wonderland Lv 3 x1
Olympus Coliseum Lv 3 x4
Atlantica Lv 2 x0

Rare:

Riku Lv 3 x0
Jack Skellington Lv 3 x0
Sally Lv 0 x0
Beast Lv 3 x0
Hercules Lv 3 x1
Peter Pan Lv 3 x0
Winnie the Pooh Lv 0 x0
Yuffie Lv 2 x0
Leon Lv 4 x0
Moogle Lv 1 x0
Mushu Lv 4 x0
Tinker Bell Lv 3 x0
Tinker Bell Lv 4 x0
Curaga Lv 4 x0
Graviga Lv 4 x0
Stopga Lv 6 x0
Soul Eater x0
Pot Spider x0
Stealth Sneak x0
Aquatank x1
Behemoth x1
Parasite Cage x0
Ursula x0
Oogie Boogie x0
Captain Hook x0
Maleficent x0
Destiny Islands x1
Disney Castle x0
Olympus Coliseum Lv 2 x0
Halloween Town Lv 2 x0

Super Rare:

Donald Duck Lv 4 x1
Goofy Lv 4 x1
Chip & Dale Lv 0 x1
King Triton Lv 2 x1
Hundred Acre Wood Lv 0 x1
End of the World Lv 3 x2
Riku Lv 3 x2
Jack Skellington Lv 3 x1
Sally Lv 0 x1
Beast Lv 1 x1
Beast Lv 2 x1
Beast Lv 3 x1
Hercules Lv 1 x1
Hercules Lv 2 x1
Hercules Lv 3 x1
Peter Pan Lv 1 x1
Peter Pan Lv 2 x1
Peter Pan Lv 3 x1
Winnie the Pooh Lv 0 x1
Yuffie Lv 2 x1
Leon Lv 4 x2
Moogle Lv 1 x1
Dumbo Lv 4 x1
Tinker Bell Lv 3 x1
Tinker Bell Lv 4 x1
Soul Eater x1
Behemoth x1
Parasite Cage x1
Queen of Hearts x1
Hades x1
Clayton x1
Jafar x1
Ursula x1
Oogie Boogie x1
Captain Hook x1
Maleficent x1
Destiny Islands x1
Disney Castle x1

Set III: Light and Darkness

Common:

Ariel Lv 4 x23
Abu Lv 0 x21
Roo Lv 0 x22
Aerora Lv 4 x27
Magic Lamp x24
Magic Carpet x24
Smasher x18
Warhammer x21
Herc's Shield x25
Morningstar x25
Soldier x27
Gigant Shadow x20
Creeper Plant x25
Bit Sniper x27
Rare Truffle x20
Sheltering Zone x28
Battleship x24
Olympus Coliseum Lv 1 x23
Deep Jungle Lv 3 x22
Atlantica Lv 1 x27
Atlantica Lv 3 x24

Uncommon:

Sora Lv 2 x9
Riku Lv 2 x7
Donald Duck Lv 3 x12
Goofy Lv 3 x10
Hercules Lv 3 x8
Peter Pan Lv 3 x10
Beast Lv 3 x11
Merlin Lv 3 x9
The White Rabbit Lv 0 x10
Phil Lv 1 x12
Geppetto Lv 0 x11
Sebastian Lv 0 x11
Flounder Lv 0 x12
Piglet Lv 0 x9
Simba Lv 1 x10
Bambi Lv 1 x11
Dumbo Lv 1 x10
Save the King x8
Black Fungus x10
Tornado Step x11
Monstro Lv 1 x9

Rare:

Dark Riku Lv 3 x2
Kairi Lv 0 x4
Aladdin Lv 4 x4
Alice Lv 0 x5
The Cheshire Cat Lv 2 x2
Jasmine Lv 0 x3
Pinocchio Lv 1 x3
Wendy Lv 0 x3
Winnie the Pooh Lv 1 x3
Owl Lv 0 x3
Tinker Bell Lv 0 x3
Aeroga Lv 5 x4
Lord Fortune x4
Crescendo x3
Trickmaster x3
Agrabah Lv 1 x3
Agrabah Lv 3 x3
Monstro Lv 2 x3
Neverland Lv 2 x4
Fairy Godmother Lv 2 x4

Super Rare:

Ansem Lv 10 x1
Fairy Godmother Lv 2 x2
Aerith Lv 2 x1
Cloud Lv 4 x1
Sephiroth Lv 4 x1
Genie Lv 1 x2
Ultima Weapon x2
Jafar-Genie x2
Dragon Maleficent x2
Dark Riku Lv 3 x1
Crescendo x1
Trickmaster x1
Kairi Lv 0 x1
Aladdin Lv 4 x1
Alice Lv 0 x1
The Cheshire Cat Lv 2 x1
Jasmine Lv 0 x1
Pinocchio Lv 1 x1
Wendy Lv 0 x3
Winnie the Pooh Lv 1 x1
Owl Lv 0 x1
Tinker Bell Lv 0 x1
Aeroga x1
Lord Fortune x2
Agrabah Lv 1 x2
Agrabah Lv 3 x1
Monstro Lv 2 x1
Neverland Lv 2 x1
The King Lv 0 x2

Set IV: Break of Dawn

Common:

Donald Duck Lv 1 x16
Goofy Lv 1 x18
Olette Lv 1 x5
Hercules Lv 1 x5
Megara Lv 0 x5
Pegasus Lv 2 x11
Aladdin Lv 1 x11
Abu Lv 1 x11
Iago Lv 0 x6
Ariel Lv 1 x7
Jack Skellington Lv 1 x17
Zero Lv 1 x6
The Mayor Lv 0 x6
Peter Pan Lv 1 x11
Ping Lv 1 x5
Mushu Lv 2 x6
Fuu Lv 1 x6
Vivi Lv 1 x6
Tinker Bell Lv 2 x6
Fire x8
Blizzard x2
Thunder x4
Aero x5
Gravity x6
Cure x11
Stop x5
Lamp x5
Spear x3
Whirli-Goof x7
Comet x8
Shadow x18
Oatkeeper x5
Bouncywild x17
Soldier x5
Oblivion x5
Shock x6
Barrel x5
Dusk x1
Samurai x5
Creeper Plant x7
Powerwild x5
Undead Pirate x5
Assassin x6
Barrel Spider x7
Bandit x6
Large Body x7
Angel Star x5
Sea Neon x5
Bit Sniper x5
Fat Bandit x5
Lock x6
Air Pirate x7
Gargoyle x5
Pirate x5
Defender x7
Hydra x18
Twilight Town Lv 2 x24
Olympus Coliseum Lv 1 x17
Olympus Coliseum Lv 2 x5
Agrabah Lv 3 x6
Halloween Town Lv 2 x5
Halloween Town Lv 3 x5
Neverland Lv 1 x6
Hollow Bastion Lv 2 x5
Port Royal Lv 2 x12
Timeless River Lv 1 x6

Uncommon:

Sora Lv 1 x8
Axel Lv 2 x2
Xaldin Lv 2 x2
Kairi Lv 2 x2
Donald Duck Lv 3 x2
Goofy Lv 3 x8
Merlin Lv 3 x8
Hayner Lv 1 x1
Pence Lv 1 x1
Hercules Lv 2 x2
Phil Lv 1 x2
Aladdin Lv 2 x2
King Triton Lv 2 x1
Jack Skellington Lv 2 x2
Sally Lv 1 x2
Will Turner Lv 2 x7
Elizabeth Swann Lv 1 x7
Mulan Lv 2 x2
Selphie Lv 1 x2
Rai Lv 1 x1
Seifer Lv 2 x2
Bambi Lv 3 x2
Fira x2
Blizzara x2
Thundara x2
Olympia x6
Wishing Lamp x2
Decisive Pumpkin x8
Rings x0
Bushido x2
Shooting Star x2
Red Rocket x2
Mr. Smee x8
Pain x2
Panic x2
Dragoon x3
Stealth Sneak x2
Aquatank x2
Invisible x2
Barbossa x2
Cave of Wonders Guardian x0
Queen of Hearts x2
Darkside x2
Olympus Coliseum Lv 3 x14
Agrabah Lv 2 x2
Monstro Lv 1 x2
Halloween Town Lv 1 x2
Port Royal Lv 1 x2

Rare:

Sora Lv 2 x2
Donald Duck Lv 4 x4
Goofy Lv 4 x4
Hercules Lv 3 x2
Aladdin Lv 3 x2
Pinocchio Lv 1 x2
Dr. Finkelstein x2
Beast Lv 3 x2
Jack Sparrow Lv 3 x2
Simba Lv 3 x2
Genie Lv 4 x2
Firaga x2
Blizzaga x2
Thundaga x2
Kingdom Key x8
Pot Spider x4
Search Ghost x2
Pot Centipede x8
Crescendo x2
Wizard x2
Wyvern x2
Twilight Town Lv 3 x8
Agrabah Lv 1 x2
Hundred Acre Wood Lv 1 x2

Super Rare:

Sora Lv 3 x4
Sora (Valor Form) Lv 3 x4
Sora (Wisdom Form) Lv 3 x5
Ansem Lv 10 x3
Roxas Lv 1 x3
Mickey Mouse Lv 1 x5
Minnie Mouse Lv 1 x3
DiZ Lv 1 x3
Captain Pete Lv 0 x3
Alice Lv 0 x2
Jasmine Lv 1 x3
Jack Skellington Lv 4 x3
Yuffie Lv 2 x3
Leon Lv 4 x3
Auron Lv 4 x3
Pete x3
Phantom x3
Behemoth x3
Cerberus x1
Parasite Cage x3
Jafar-Genie x3
Hades x3
Destiny Islands Lv 2 x3
End of the World Lv 2 x1

Promo:

Event 1 Foil x3
Event 1 x1
Snow White Foil x1
Snow White x1
Sora Lv 3 x1
Belle Foil x1
Belle x1
Aurora Foil x1
Aurora x1
Cinderella Foil x1
Cinderella x1
WAITING LIST/Trade History


Who-------------------For---------------------------Trading---------------STATUS------------------------------------------------------------------------------------------------------------------------------------------------

ZERO---------$15 and Oathkeeper---------------Simba Lv 1 holo-----------TRADED

Kingdom Knight--Simba Lv 4SR and Green Requiem x4---H.town Sora----NVM

pkthecat---------Simba Lv 2SR--------------------merman sora holo-------NO TRADE

cloud93---------Simba Lv 3-------------------------$3-------------------CANCELLED BY ME

Rikkuliam--------$10-------------------Goofy Lv 3SR and Aladdin Lv 1SR---TRADED

Ecomics21----Simba Lv 3 and $5---------Goofy Lv 2SR and Tip Card 1/5---TRADED

TheMysterious14---Blizzaga-------------------Dumbo Lv 2SR---------------CANCELLED

PriesTnSora--------$20---------Goofy Lv 4, End of the World, Hercules Lv 3, and Riku Lv 3-----TRADED

Rikkuliam-----------$25---Simba Lv 1 non-holo, Aladdin Lv 2 SR, and Bambi Lv 3 SR------TRADED

ultamagoofy419----$50---Merman Sora Lv 1 holo, Merman Sora Lv 1 non-holo, Tink Lv 1 holo, Tink Lv 1 non-holo, and Riku Lv 2 non-holo(complimentary)---TRADED

Ecomics21---Jack Lv 1 x3, Beast Lv 1 x3, Hercules Lv 1 x3, Peter Pan Lv 1 x2, Gravity x3, Stop x3, Beast Lv 2 x3, Hercules Lv 2, Selphie x2, Wakka, and Halloween Town Lv 3---Olympus Coliseum Lv 2 and Hercules Lv 2 SR---TRADED

PriesTnSora----Broom and $4.50------Disney Castle SR-----TRADED

Jack The Pumpkin King---Riku Non-holo Promo and $10---Bambi Lv 2 SR, Bambi Lv 4 SR, Halloween Town Lv 2 and Mushu Lv 4---TRADED

LIL NINO773----$20------------------------Chip & Dale and Donald Lv 4----SCAMMER!!!!

LIL NINO773----$30---Yuffie Lv 2SR, Tink Lv 3SR, Jack Lv 3SR, Ursula SR, Clayton SR, Ariel Lv 2SR, Ariel Lv 3SR, Tink Lv 2SR, Aladdin Lv 3SR, 100 Acre Wood---SCAMMER!!!!

quator86------Soul Eater SR-------------------------Tigger non-foil-------------TRADED

PriesTnSora-------$45-----Sora Lv 1, 2, 3 SRs, Tigger Foil, and Chip and Dale---------------TRADED

quator86-----------Goofy Lv 4-----------Donald Lv 4, Riku Lv 3SR, Hook SR, Tink Lv 4 SR---TRADED

quator86---------------------$80----------------Daisy Foil, Tigger Foil, Pot Spider, Beast Lv 2SR, Hercules Lv 3SR, Peter Pan Lv 2SR, Behemoth SR, Clayton SR, Jafar SR, Ursula SR, Oogie Boogie SR---TRADED

plmrelm-------------------96 Heart Points and $20---------Donald Duck Level 2 (foil), Donald Duck Level 3 (foil), Aladdin Level 3 (foil), Ariel Level 2 (foil), Ariel Level 3 (foil), Dumbo Level 2 (foil), Dumbo Level 3 (foil), Jack Skellington Level 3 (foil), Sally Level 0 (foil), Hercules Level 1 (foil), Peter Pan Level 1 (foil), Winnie the Pooh Level 0 (foil), Yuffie Level 2 (foil), Tinker Bell Level 3 (foil), Soul Eater (foil), Hades Level 8 (foil), and Maleficent Level 8 (foil)-------TRADED

darksoulSP-----------Pokemon Badges---------------King Triton, Aquatank, Behemoth-------TRADED

Fate-------------------------$20--------------------------Non-foil Daisy Duck-----------TRADED

seythdragonsamurai------$70---------------------Triton, Chip & Dale, Tink Lv 2 SR, Parasite Cage SR-----TRADED

Haley-Jo-----------------Chip & Dale-----------------Leon SR, Oblivion, Soul Eater, and Destiny Islands-----------TRADED

Eroecchi---------------Triton------------------Hundred Acre Wood------------TRADED

king simba------------Tigger Foil and $10----------Goofy Lv 4---------------TRADED

Roxas_Lawliet--------The King---------------------Sora Lv 2 nonfoil Promo and Kairi SR----TRADED

Master~Riku---------Soul Eater and $5-------------Pinocchio SR and Winnie the Pooh Lv 1 SR----TRADED

Vertically Challenged---TheKing------------------Ultima Weapon------------TRADED
Fate------------------------$30--------------------------Genie-Jafar------------TRADED
Ulquiorra------------------------$100--------------------------Cloud and lot of cards------------TRADED
mysticwarriormj-----------$5--------------------------------X-Card------------------------TRADED

TheChampIsHere----------Sora Lv 1 foil promo and Riku Lv 2 foil promo-----$13 and 6Rs-----TRADED
Thirroxin-------------Ansem, Cid non-foil, C&D, and Aerith----$55-------------TRADED
Vertically Challenged----HAW------------$5 and Leon SR and Riku Lv 3 SR------TRADED
Thirroxin------------C&D and Triton and Don and Goofy x2---------------$70-------------------TRADED
Thirroxin------------Cloud & Sephiroth-------------------------Sora Lv 2 Promo foil----------TRADED
Thirroxin-----------Dumbo Lv 2SR,Kairi Promo, Kairi Promo Foil,Simba Lv 1 Foil Promo, Daisy---$30---TRADED
WayToTheDawn----Snow White foil and Event 1 non-foil---CoWG x2, Alice, Cerberus---TRADED
King Simba--------Sora unreleased P-------------Elizabeth, Will, MerSora NF, King, Cerberus, Valor Form, Triton U---TRADED
Nobody21494----------$10---------------------------------assorted cards-------------------SENDING