This thread is basically just an excuse for me to play around with my hero editor. I'll also record the heroes on this web page for easy viewing, so feel free to clutter the thread with comments, if you have any.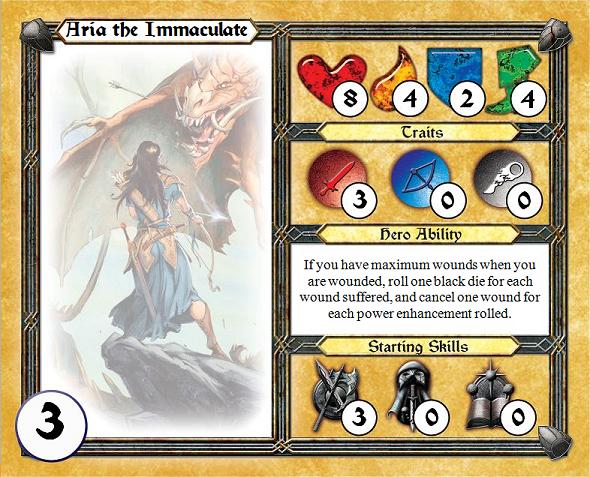 Aria the Immaculate
Having very good defenses while at full health, Aria will want to try to stay that way, and may find herself drinking healing potions more often than most heroes. Picking up a shield will allow her to negate one or two wounds that make it past her primary defenses and help her maintain her aura of invincibility (and she's got enough trait dice to do fine with a one-handed weapon). She may also want to add the Ghost Armor later, if she gets a good light armor as a treasure draw, but I suspect it's not worth it if she would have to downgrade from Chainmail to Leather Armor in order to equip Runes.
As a low-health, high-armor hero, I'd ordinarily say that she's vulnerable to traps, but her ability will defend against those, as well, so perhaps not as vulnerable as one might think. Still, traps have a good chance of puncturing her defenses if she doesn't have the Ghost Armor, so that may be an appealing way for the overlord to open her up to further attack.