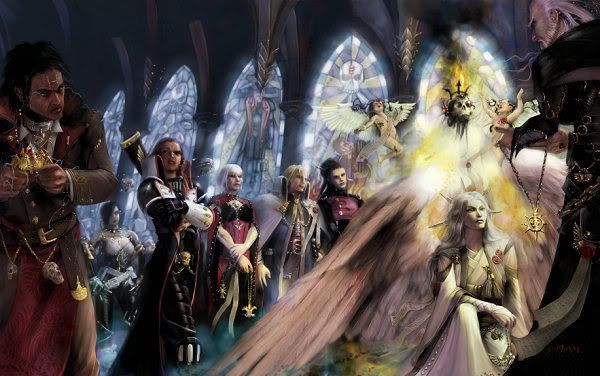 The dread Inquisitor Nocteun's "avenging angel" is finally raised to the status of Inquisitor, but not all among the gathered servants of the Golden Throne are pleased by these events...
A painting I did for Aethel of these boards depicting the Inquisitor in her game and her retune. These characters were orriginaly a part of her war band in Inquisitor and have quite the rich history, some of which can be read about HERE.
A much larger version of the painting can be seen by clicking on it or going HERE.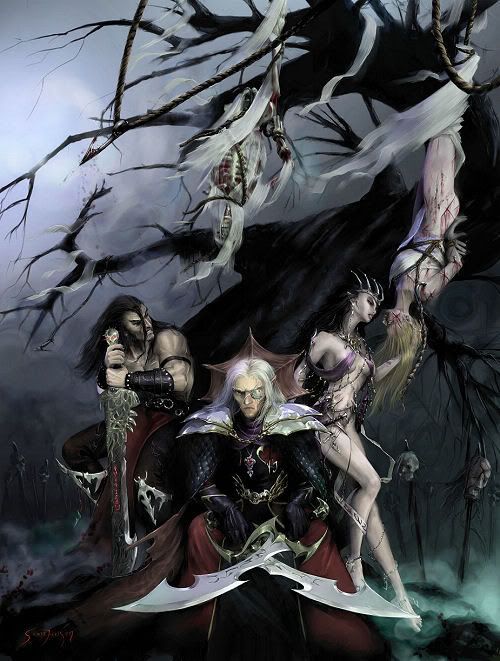 Another painting done for Aethel, though this one technicaly probably shouldn't be here. I did post it to the WHFRP boards a while back, but since I'm putting up a bit of my art here, i figured it couldn't hurt. It's her play-group from WHFRP, a decadant cabal of dark elf siblings and heirs to the Black Heart legacy.
Again, a larger version can be found HERE as well as by clicking on the image.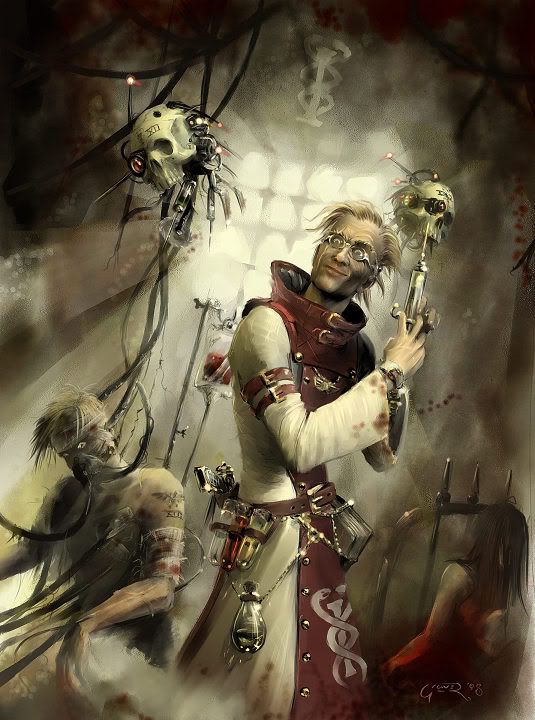 This is an older one originally posted to the old boards. Medicae-Interrogator Sands from Edge of Darkness after being used as an NPC in my game for a good few months. His mental health started going down hill and didn't stop until after a year of gaming where he ended up being addicted to obscura, had only two modes of operation (high or insane), had a deep corruption which kept gnawing its way out of his belly, an unquenchable need to slice folks open and nibble at their flesh, and was, in all, a drug addicted insane corrupt and mutated shell of his former self. And what's worse? Not only did the acolytes which he regularly abused not do him in before his situation got so bad, but he eventually died when Slought came hunting the PC's and found him in a drug induced stupor and chose to nibble on his gray-matter instead. When the PC's found his body, it was quite the touching scene with his apprentice's player asking me after game why I killed him off.
"Well, it was bound t happen sooner or latter -besides, he was running out of ledges that looked like the rock bottom to fall to. If it matters at all, i didn't plan for him to die that way, it just sort of happened. I was actually hopping Cedric (the apprentice) would kill him." I responded.
"What?! That's terrible!" She responded looking a bit hurt that I would wish to torture her character so.
"Really, so continually stringing his life along in a sad mockery of what he had once been as he continually found new lows to sink to all so Cedric could have his security blanket isn't?"
"Uh..."
"And if Cedric had done him in, he might have salvaged a bit of respect for the man, he probably would have been remembered in a slightly better light, wouldn't have died in such a sad and pathetic way and, finally, Cedric would have lost his master because such was his duty and not because his master was too damned high to keep some worms from munching his brain."
"Well, when you put it that way..."
It was a good run with him and, in the end, I believe he did serve as a wonderful warning sign to the PC's of the danger of going too far out into the lala land of heresy for the greater good. It didn't end so well at all for poor old Sands.
As usual, you can click on the image or HERE to see a larger version.
This would be the first Dark Heresy or 40k type piece that I have done and was, likewise, originally posted to the old boards, but I figured a repost was in order. Depicted here is the almost original characters in my on-going game, none of which are active any more (which just goes to show that I really need to find the time to get another one done of my current DH group).
From left to right, the characters are: Trooper Starr who served Sands' insane plans for a bit of time hunting a strange relic from bygone days before it's hideous truth was revealed, though, thankfully, she never learned the truth and, as such, was able to be cycled back into regular active duty on Scintilla with only bad memories and a bad taste in her mouth from her brief stent with the Inquisition; Eli of Roomfall aka Eli the Scum who was "pulled up from the sewers" by Cerra the Witchfinder, a no-good dreg who didn't even know the name of St. Dersus much less how to spell his own name and ended up rising to the heights of The Bringer of Doom, scion to the accursed Haarlocks, and, to escape the curse, has accepted a parasitic mask from the Slought and took the first opportunity to skip out of Imperial space with a rogue psyker that he's fallen in love with (his story shall continue in Rogue Trader); and Cerra the Witchfinder, an incredibly strange psyker (and that's saying something considering your run of the mill psyker) who, despite the hells of Inquisitorial service, never lost her girlish joy and love of life... until the Slought ate her that is.
Again, click the image or HERE for a larger version.
More 40k images to come... sometime soonish... hopefully. If nothing else, I've really got to get a painting done of the current group and their ongoing mission.