The Stealth Device: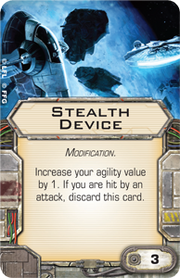 After having read this blog post on the Stealth Device I got a very different view on how to actually remove it from a ship.
Basically what the blog post says is that you need to be HIT BY AN ATTACK to remove the Stealth Device. Literally! You don't loose for suffering damage and many other situations.
Now, I have always removed my Stealth Devices once a ship got any sort of damage but I may have been way to hard on myself there. Example: I flew over an asteroid, rolled a dice, took 1 damage and the I removed my Stealth Device. I now see how that's not really what the card and core rules for taking a hit says on the matter.
What is the general consensus on this? I highly recommend studying the blog post before answering since it has loads of details.