If you are in the Minneapolis area, and looking to meet some friendly people and get in some games of Star Wars LCG, stop by the Fantasy Flight Event Center on Friday nights!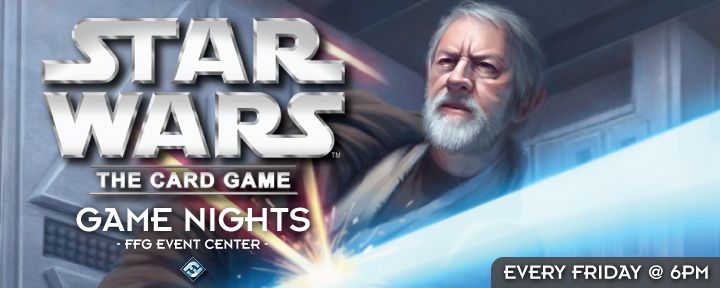 Things usually begin around 6pm, but some get there slightly before that.
All skill levels are welcome, and feel free to bring new players who want to learn the game!
We usually play a mix of 1v1, 2v2, and soon there will be some 3v1 (with the release of Balance of The Force).
What better way to end your week than with some games of Star Wars, some great conversation, and perhaps some food and drink.
A few of us are usually wearing something Star Wars related, and you will no doubt see a bunch of focus tokens, damage tokens, shields, and death star dials scattered over our tables!
Again, everyone is welcome, even if you have never played the game, have no cards at all, and are simply curious what the game is like! I (or anyone, really) would be happy to hand you a deck and walk you through a game or two.
Feel free to email me at divinityofnumber [at] yahoo [.com] or send me a message here for more information.
See everyone on Friday!
Edited by divinityofnumber, 03 December 2013 - 08:51 PM.