Cthulhu The Card Game, European Championship 2012
26-28 November 2012, Liège, Belgium
Credits:
First of all, I would like to thank our generous sponsors: Fantasy Flight Games, Objectif Jeux, l'Autre Monde and EagleCard. They allowed us to offer great prizes, a free entrance for all participants and a large area to accomodate 24 players the saturday.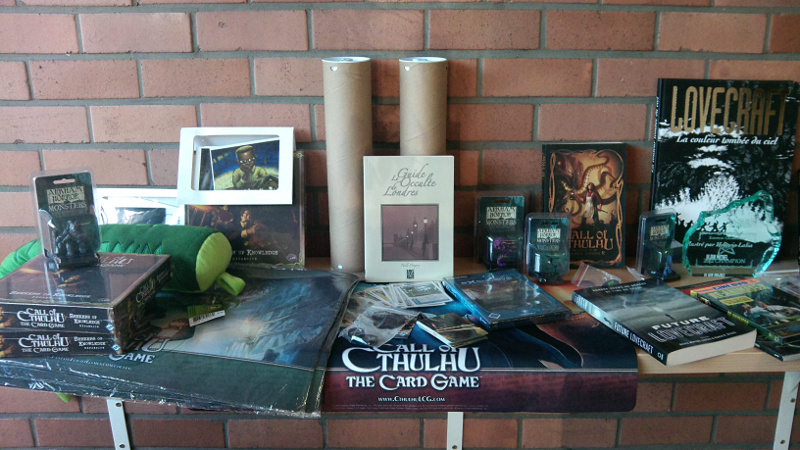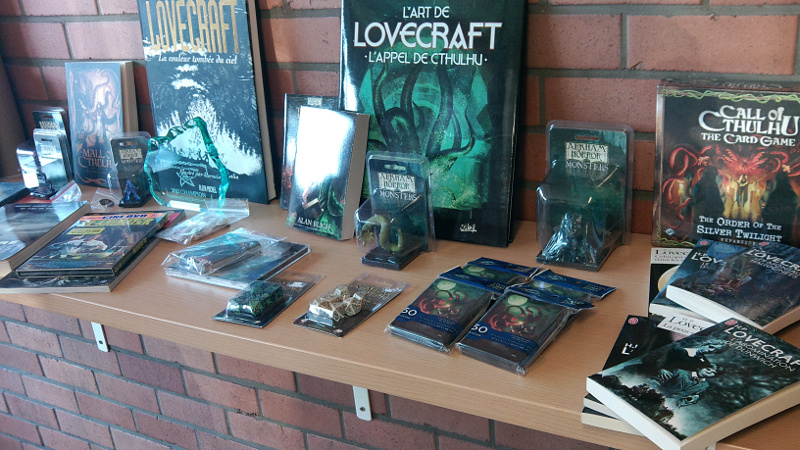 Then, I want to highlight the great job done by the three judges and the Tourney Magistrate Master, Loïc; without them, the tournament would not have been possible.
Of course I also give thumbs up to all the Organisation team (the Cthulhu LCG players from Objectif Jeux, our gameclub in Liège). Their help was greatly appreciated: gameroom set up, IT logistics, sponsors contact, variant design, event announcement design,…
Special thanks to Sandy who covered the event and interviewed players.
And last but not least, big thanks to the players who have sometimes come from the other side of the earth to attend with lots of fairplay and pleasure. Thanks to them, the Euro Champ is the biggest Cthulhu LCG event of 2012 by the number of participants.

Report:
The week before the Champ, I had the pleasure to discuss with Anton Torres (FFG) and, even though he had just spent an exhausting week at Essen Spiel'12 gamefair, he was kind to arrange a huge shipment of prizes, graciously offered by FFG.
At the same time, I had finished arrangements with Wolfgang Penetsdorfer (EagleCard) who also offered extra prizes and nices posters to add some atmosphere to the Gameroom.
Friday evening, a few Cultists showed up, mainly PlasticXO (F), Jon (Achil), Raymond and Bryan (B), Florentin (myotaro) and Paul (Dark Initiate). Some others remained in their den in order to polish their deadly weapons for the day after…
We played a few games, enjoyed some belgian beers and commented the new cards from the last AP's and the new deluxe expansion.

Saturday morning, 10:00am, a crowd of 24 cultists is spotted in the game room. A few of them are writing their last will on a paper, which is then transmitted, as a pact of blood, to the Great Priest of the Ceremony to come. Some others are starring in the void, as Called by Azathoth, already accepting their funest end.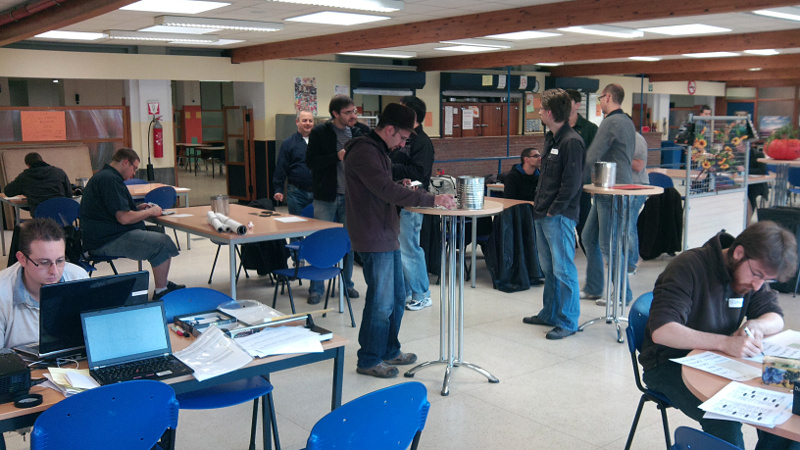 At (almost) 11:00am, the TO gives the details to the tournament organisation. A few minutes later, the first round is then launched. During each round (4) of the preliminary phase, 12 tables are set up. Here below we can see 9 of the 12.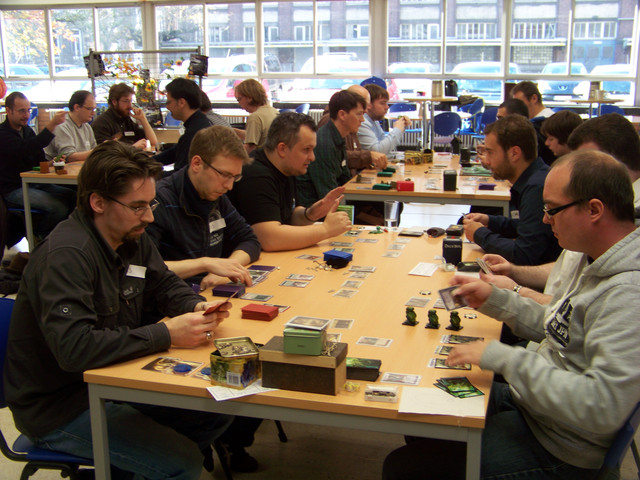 It is not long before the first player become insane, running and shouting through the gameroom, he simply won his first match against last year Euro Champ, Graham…! He is still wondering how he did it…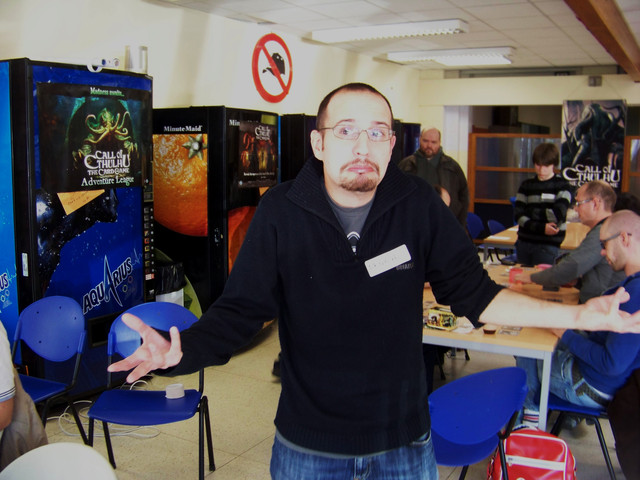 Next 3 rounds are played in a timely fashion, and soon the Top 8 emerge:
B_P, durango, mzi, Mr Patate, Thorondor, Dark Initiate, Darkman, Carioz.
Strong players with strong decks, this selection sounds logical. A few surprises, however: neither Graham nor konx (the two previous Euro Champs) are part of it.
Time for the Quarter, Semi and then the Finale.
The top 8 ranking arrange things so as we have a belgian player in each of the 4 quarter-finales. And they all win. So the semi-finale are facing 100% belgian players. A situation never seen before.
Durango and B_P are victorious and move towards the Finale.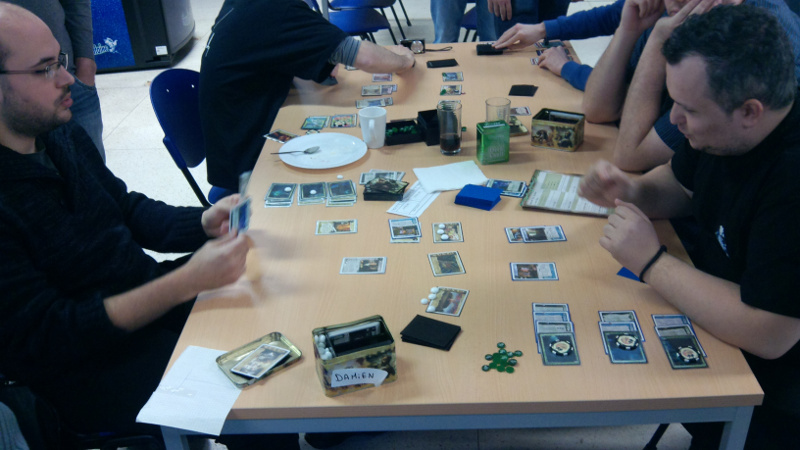 Even though Durango plays a rush-agro cthulhu-agency deck, B_P is able to contain it and will finally demonstrate he is the strongest player of this tournament.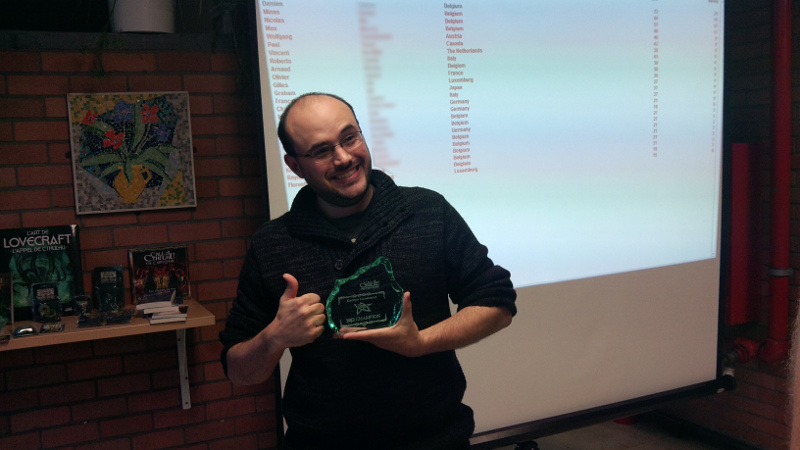 His cthulhu-hastur toolbox deck is posted on the french forum Le Cenacle: http://cenacle-hd.bb-fr.com/t2457-vainqueur-championnat-d-europe-2012 . He also explains how he managed to win against the combo decks Altar+Logan+NecroShub or Glimpse of the Void there: http://cenacle-hd.bb-fr.com/t2440p30-championnat-europeen-coc-lcg-27-10-2012-irv-liege#29894

The semi-finalists and finalists played 7 matches in a row, from 11:00am till 7:30pm. Congratulations to them.
Final ranking of the European Championship 2012:
1. Damien (B_P) - B
2. Minas (Durango) - B
3. mzi (mzi) - B
4. Max (Mr Patate) - B
5. Wolfgang (Thorondor) - A
6. Paul (Dark Initiate) - CAN
7. Vincent (Darkman) - NL
8. Roberto (Carioz) - I
9. Arnaud (Arcanis) - B
10. PlasticXO (PlasticXO) - F
11. Gilles (jekothalep) - L
12. Graham - JP
13. Francesco (konx) - I
14. Christian K. - D
15. Michael (jhaelen) - D
16. Stéphane (Evil) - B
17. Jonathan (Achil) - B
18. Christian G. - D
19. Fred (FredhoT) - B
20. Supa (Supa) - B
21. Bryan - B
22. Kris (bearpaw) - B
23. Raymond (WosRaymond) - B
24. Florentin (Myotaro) - L
I'm in the process of encoding all the decklists and will post a summary of them ASAP.

Sunday, we gathered 10 survivors to play a more "relaxed" tournament, with a homebrewed variant from Achil (ticking clock & hidden stories), which was fun to play, adding some different themes and mechanisms by means of a new story deck (played hidden and the event must be triggered when the story is won) and Dawn-Day-Twilight-Night "clock deck", giving some temporary advantages to some factions. Every participant enjoyed it, and made constructive comments to the designer.
1. Jon (Achil)
2. Damien (B_P)
3. Supa
4. Minas (durango)
5. Raymond
6. Fred (FredhoT)
7. Wolfgang (thorondor) replaced by Loïc
8. Bryan
9. Christian K. ( played 2 rounds out of 4)
10. Michael (played 2 rounds out of 4)

All in all, I'm really happy how the tournaments went, especially when hearing the good feedbacks from the participants. I'm particularly pleased to have hosted 24 players from 9 different countries (Canada, Japan, Luxemburg, Italy, France, Germany, Austria, Netherlands, Belgium). Everyone played with sportsmanship and fairplay, which is the most important to me.

See you there, next year.

More pictures of the saturday: http://cenacle-hd.bb-fr.com/t2440p30-championnat-europeen-coc-lcg-27-10-2012-irv-liege#30037