Hi all,
this might occur as a strange question, but I really enjoy building decks. Always make them exactly 50 cards (which is the minimum to a tournament deck), but I sometimes like to have smaller decks. For that reason I sometimes use several cards:
We are not Idle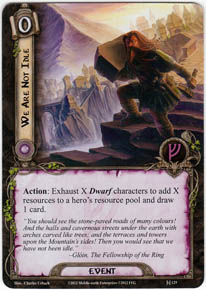 Even without Dwarves I find this card useful because It reduces a 50 card deck to just 47 cards because this card just gets replaced by a new one.
Daeron Runes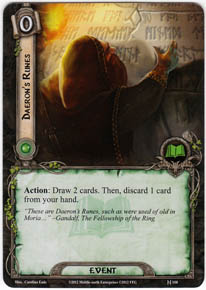 Same idea, swap 2 cards for 2 new ones.
Now my question, in "The Blood of Gondor" players are forced to remove Faramir from the game. So if I include 3 copies of Faramir in my deck, do they all got removed from the game in setup such that my 50 card deck gets reduced to 47 cards in setup?
It might sound very situational, but sometimes I can't get to 50 cards I consider worth to include. These cards are my saviour then, and I wondered if I could even reduce my effective deck size to smaller numbers when encounter cards tell you to remove a card from the game (such as Faramir for instance, in Blood of Gondor).
Grtz,
Jban