Hello Community,
Last night I had the privilege of playing an epic team game with my game group and thought I would share the experience with you all. We went traditional and did two versus two, Rebellion versus Imperials. On the Imperial end was no less than 15 ships of various TIE variants. 3 Advanced, and 4 bombers with varying payloads to one player, and 7 interceptors and a lone Defender (Rexler) to the other. On my side of the table, my teammate brought a well equipped Corvette with the full compliment of quad laser cannons, pimped out Milennium Falcon and Roark with an Ion turret. For myself I upgraded my rebel convoy list, taking two Outer Rim smugglers, two Y-Wings with ion turrets, Biggs and a rookie pilot. Rounded out with my beloved rebel transport.
Deployment has me on the left flank opposed to the majority of interceptors, with the corvette taking the center and maximizing the broadsides, and finally Han on the far right to combat and flankers. My plan was to use my low pilot skill and ion to block and keep plenty of targets in the way of my transport. Meanwhile we intended to make the most of the corvette and the obscene amount of firepower it can unload, combined with Roark allowing all those pretty guns to shoot at PS 12. This created some controversy, but after analysis and discussion we came to the conclusion that the rules state that huge ships always activate last, but as far as we can tell when it come times to shoot PS order is still used.
http://i1274.photobu...zpse1ff8abb.jpg
Things quickly turned ugly for all parties as by turn three no less than four ships has already been run over by the huge ships. The defender managed to just make a clutch K-Turn and subsequently use Rexler's ability and a heavy laser cannon to put a whopping five damage on my transport (ouch!). The defender would continue to prove to be the bane of the rebel's as it is obnoxiously hard to kill and can really lay down the pain.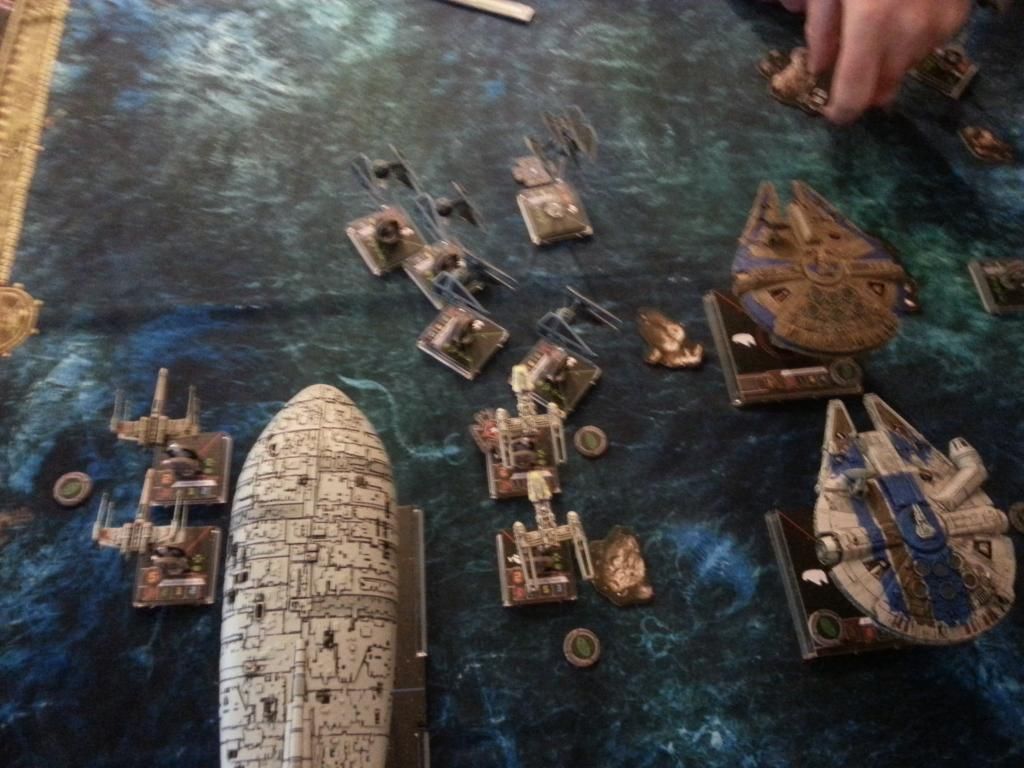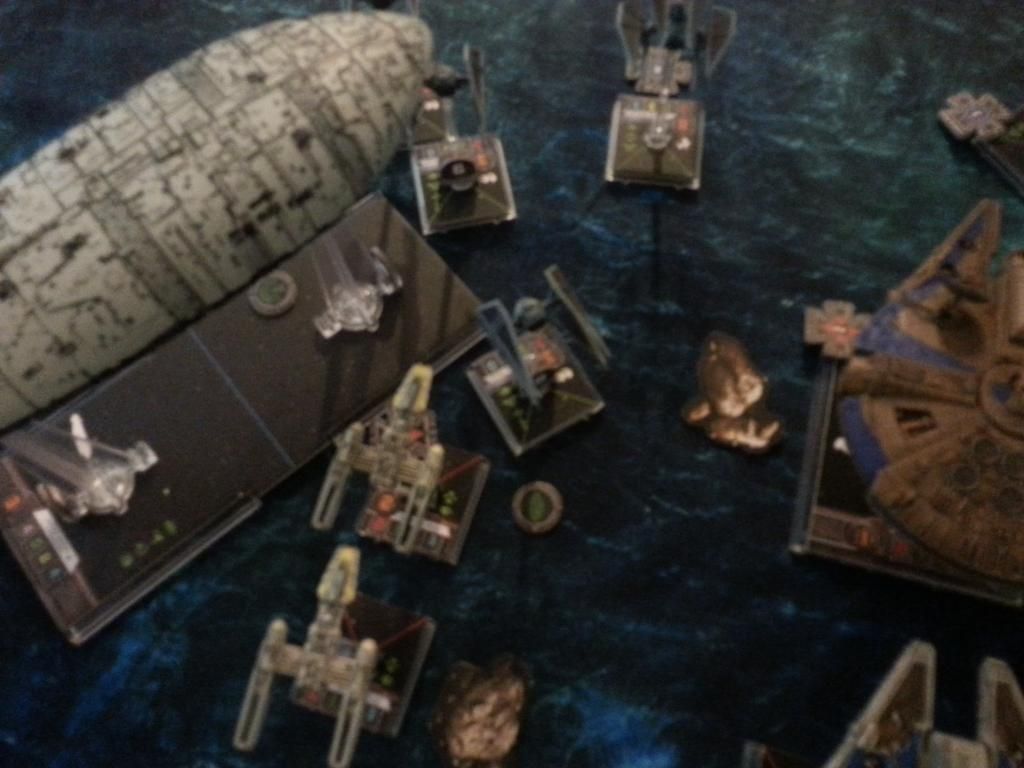 By turn six the turrets on Hawks, Y's and YT's in combination with the Corvette's firepower were proving to be crucial against the mass of Interceptors. Surprisingly the TIE advanced and Bombers proved to pull their weight against everything we could throw at them, furthermore their missiles and torpedoes were extremely painful to the corvette putting no less than 15 damage cards down. The use of Tibanna gas and repair droids we a huge help at this time, thank The Maker for shields and discarding damage cards.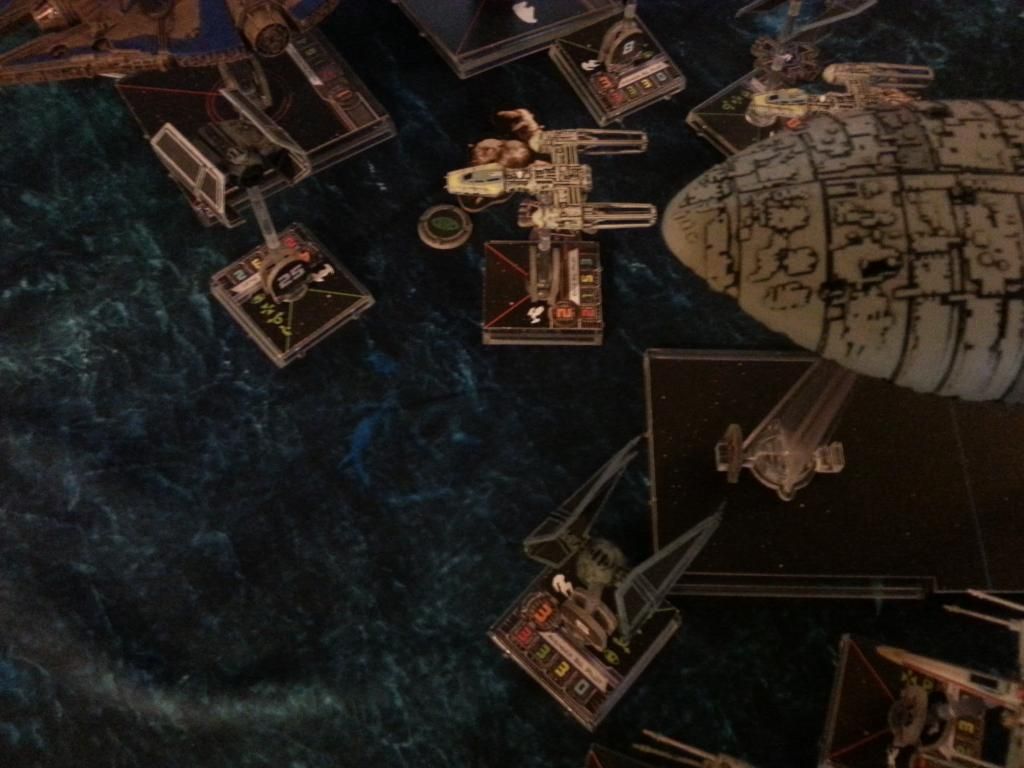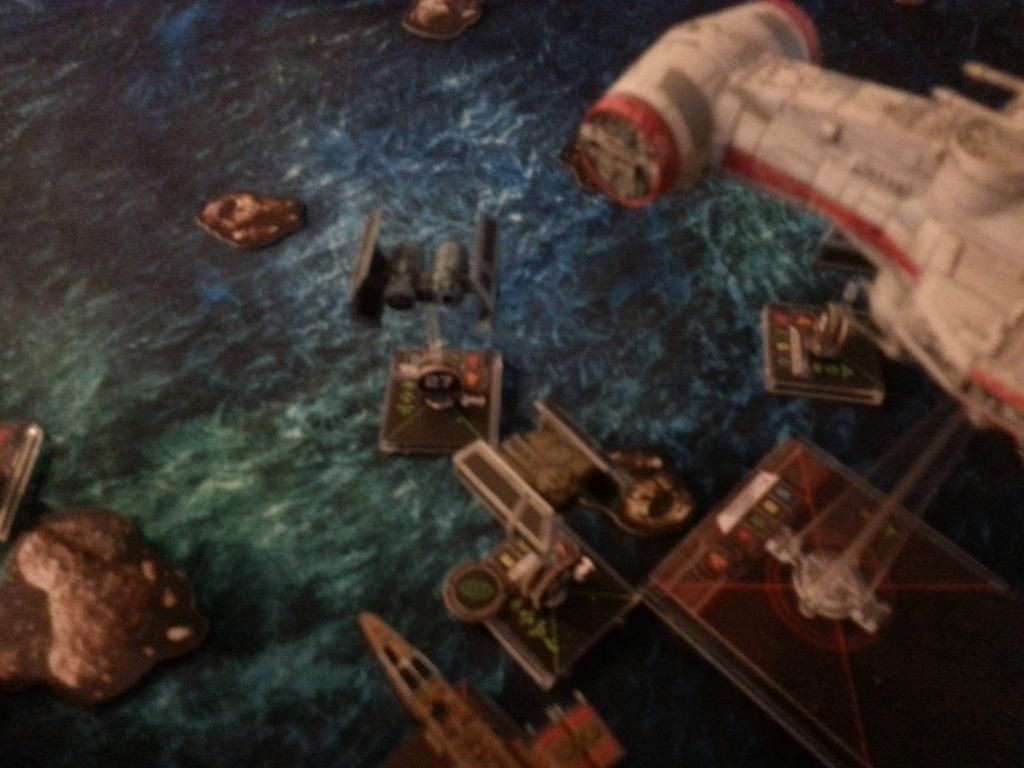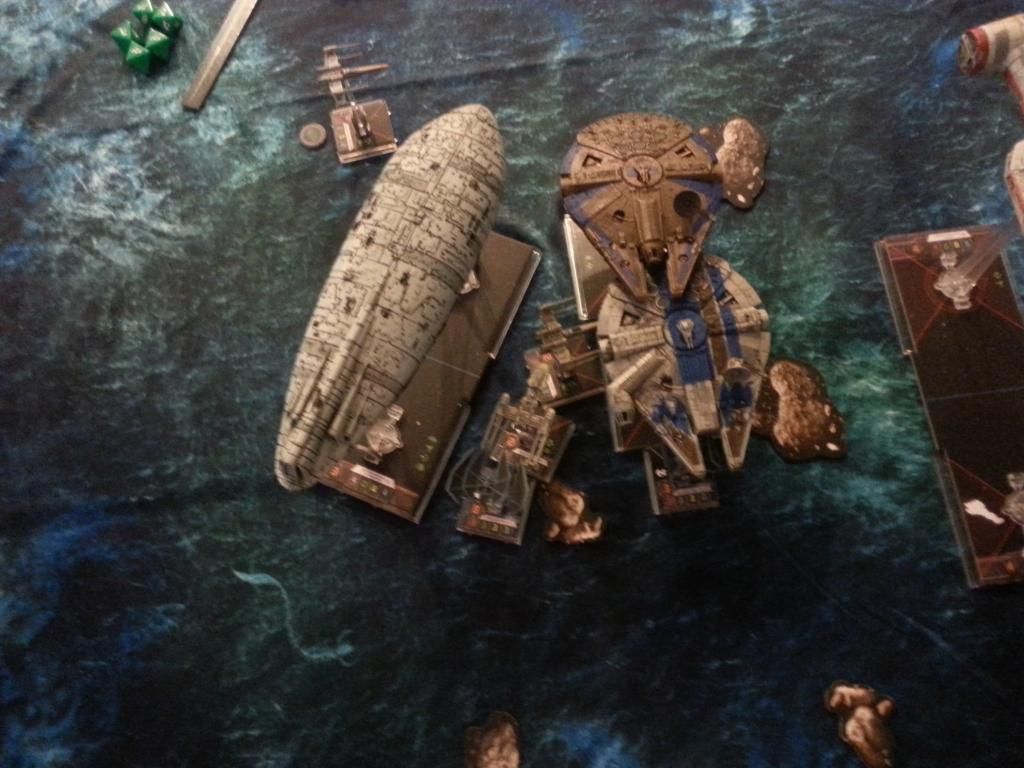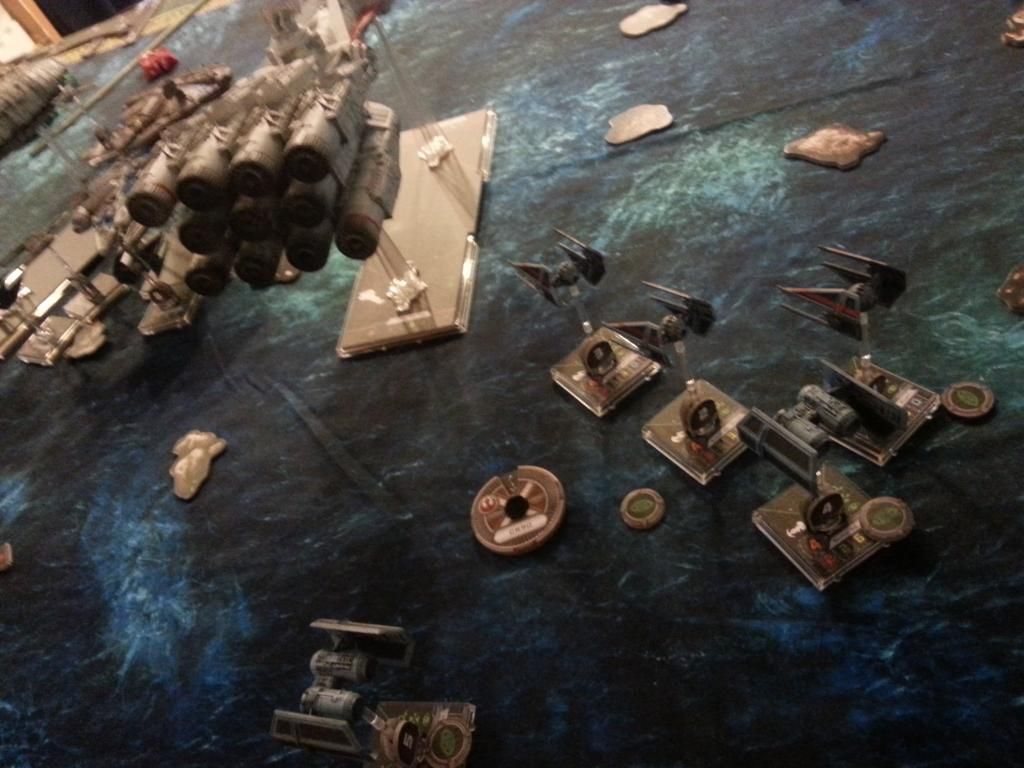 In the end it was a brutal game, though everyone's favorite terrorists/freedom fighters won the day. In hindsight here are some things that I learned from the carnage that went down. First, the transport was much more effective than I would have thought killing no less than 112 points by the end of the game. As to upgrades, the navigator is a must have. There were two times that changing speeds on a turn not only saved one of my own ships but let me clip an enemy fighter in the process. Also the repair droid is a strong consideration. There were three turns by my count where I didn't need an action otherwise and had energy being wasted, so being able to repair in those instances for a measly 2 points is worth looking at. Second, the interceptors were nice, but in the cramped confines that is the grand melee, I feel there is very little that they brought to the table that TIE fighters could not have for far less points. Third, bomber and advanced are the answer to rebel huge ships, keeping them with one missile/torpedo keeps them cheap, they are durable enough to take the broadsides as they move into position and can still sting huge ships to death after they have fired their secondary weapons. Don't think that the Empire is out of this despite not having huge ships yet. Fourth, the Defender is an all star. The maneuvering and durability in cramped quarters is golden. Combined with Rexler's ability and it can actually drop a huge ship almost single handily. Fifth, the Corvette shooting at PS 12 was devastating to the interceptors, and is a very inexpensive option to make a brutal ship even more painful. Finally, the turrets/ion were a huge boon. Looking back I am tempted to forgo the X-Wings altogether and bring loads of turrets. Always having a shot is really important in such a crowed area and the low pilot skills on smugglers/Y-Wings were very key to getting the most out of the transport.
Altogether it was a great time and looking forward to another go with the group I played with. It is a really fun format and defiantly changes up the tactics required from standard play. If you haven't played on that level yet I recommend you get to it.