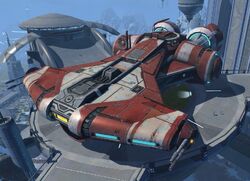 Era: Old Republic
Hull type: Light Corvette
Ship Class: Defender-class Light Corvette
Manufacturer: Rendili Vehicle Corporation
Hyperdrive: Class 1
Navcomp: Equipped
Sensor Range: Medium (Long can be argued)
Ship's Complement: Pilot; Optional Co-pilot and Gunners (3)
Encumbrance Capacity: 45
Passenger Capacity: 4-8
Consumables: 2 months
Cost/Rarity: Not Available For Retail Sale (Estimated at 450,000 Credits/8 ®: Jedi Use)
Customization Hard Points: 1
Silhouette: 4
Speed: 3
Handling: -1
Defense: 2/1
Armor: 4
Hull Threshold: 32
System Threshold: 23
Weapons:
One Port and one Starboard mounted Medium Laser Cannons (Fire Arc Forward Turret; Damage 6; Critical 3; Range [Close])
Two forward mounted concussion missile launchers ((Fire Arc ; Damage 6; Critical 3; Range [Short]; Breach 4, Blast 4, Guided 3, Limited Ammo 16, Slow-Firing 1; Linked )
Creator's Note: There's a lot of debatable information here, but I believe this is close enough to the capabilities we've seen in game. This is the one ship that could hit Silhouette 5 of all of the ships in The Old Republic MMO (as it includes "conference rooms" and the like.)
It's also classified as a light corvette, further promoting the idea that it just might be that large, but it may be due to armament. The stats here could fit in either case.