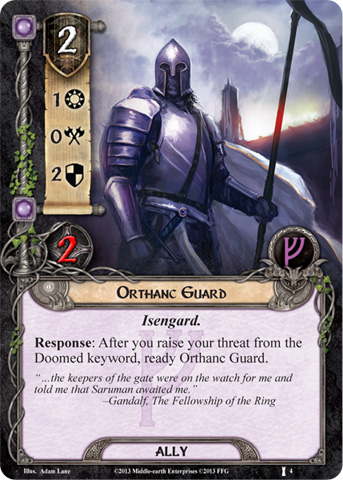 From the first glance he seems like a decent ally. 2 defense and 2 health for 2 resources, and even a readying ability if you get lucky.
Let me think what he actually is from the second glance. Doomed keyword never comes out naturally from the encounter deck outside of the quest phase, so if you want to utilize his printed ability, you'll need either luck or a doomed card played after he commits to the quest.
Doomed player cards to this day are: Give all 1 resource per hero, give all 2 cards, give all the feint and take a condition from all... oh and this little fetchy thingy. 3 out of five best played before the quest phase, so it's actually pretty hard, so, unless the deck is doomy and you're in luck - his printed ability is going to be wasted most of the times. And even when it doesn't - 1 willpower is not that much to boot, unless boosted by some side effect.
As for his main purpose, defending, he is semi-good. He'll probably sustain a punch or even two, but in the current reality with 214124 attack enemies, it'll be a miracle if he'll survive his first defense.
I can see a decent combo, where he defends lesser enemy, somebody uses Wizard Voice and then he defends a second time, probably to his demise, but still.
What I hope is that Isengard trait gets developed in this cycle and there will be something to help the fellow out, but we already had 5 previews and not a single isengard-supporting card was spoiled, so the hope is slowly fading...
Also, two main competitors of him are Pelargir Ship Captain and Guardian of the Citadel. Their main advantage over him is Gondor, being able to turn them into cheap 2-willpower, 2-attack beast, given the circumstances. And Cap can even arrange some resource transportation, if need arrives. They won't stand even a slight chance in defense, like Orthanc Guard does, but I'm comparing cost to effectiveness here.