I represented the Imperials at the Game Matrix in Tacoma, Washington on May 4th.
My forces were:
2 Royal Guard Interceptors
Both with Push the Limit
One with Targeting Computer
4 Imperial Academy Pilots
My first game:
I was facing two YT-1300.
Chewbacca
Lando
Both had upgrades and such. I don't remember all of what he had, but I do remember my opponent had a Recon Specialist on each ship.
That game ended poorly for my Imperials.
My second game:
I was facing a named Tie fighter (I forgot name), and 4 Tie Bombers.
Due to my inexperience and superb noob skills, I lost three tie fighters to Proton Bombs in one turn.
Note to self: Do not joust with bombers. Especially if they have bombs. Maybe if I have bombers too. Maybe.
That game ended up a loss for me, but not by too much as my opponent wasn't able to actually land any serious hits with his bombers after the bombings.
Game three:
I was facing three Y-Wings and a B-Wing. They all had Ion stuff (turrets and cannons). I actually won this game. Very hard fought and kudos to my opponent.
Game four:
I faced three X-Wings and a HWK-290. The HWK-290 I think had Recon Specialist and it was the Moldy Crow and Kyle Katarn. It was collecting Focus tokens like they were going out of style. It was another ship I never fought before. I still ended up blowing it away.
This game was one of the closest and hardest of the day. I managed to win by 3 points! 51 to 54 points. A very hard fought game as well.
The tournament was very awesome. All the players were great people and I had lots of fun. The hard part was trying not to burn more money on ships as I am currently unemployed. I should have gotten into this game last year when I had income.
Anyways, I came away with this prize. A Dagger Squadron Pilot. Sigh. I need to pick up some B-Wings now.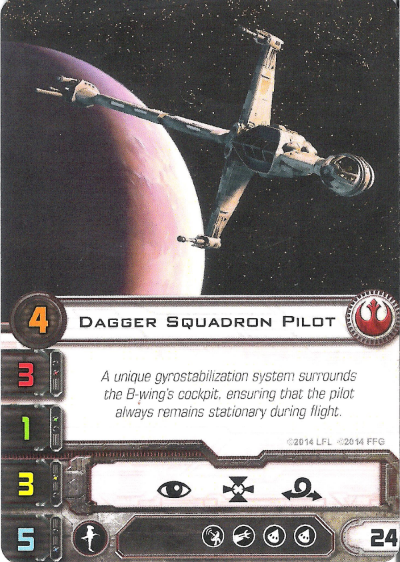 Edited by Uber72, 05 May 2014 - 02:02 AM.